Baked Chilean Salmon with Coconut Sweet Potato Red Curry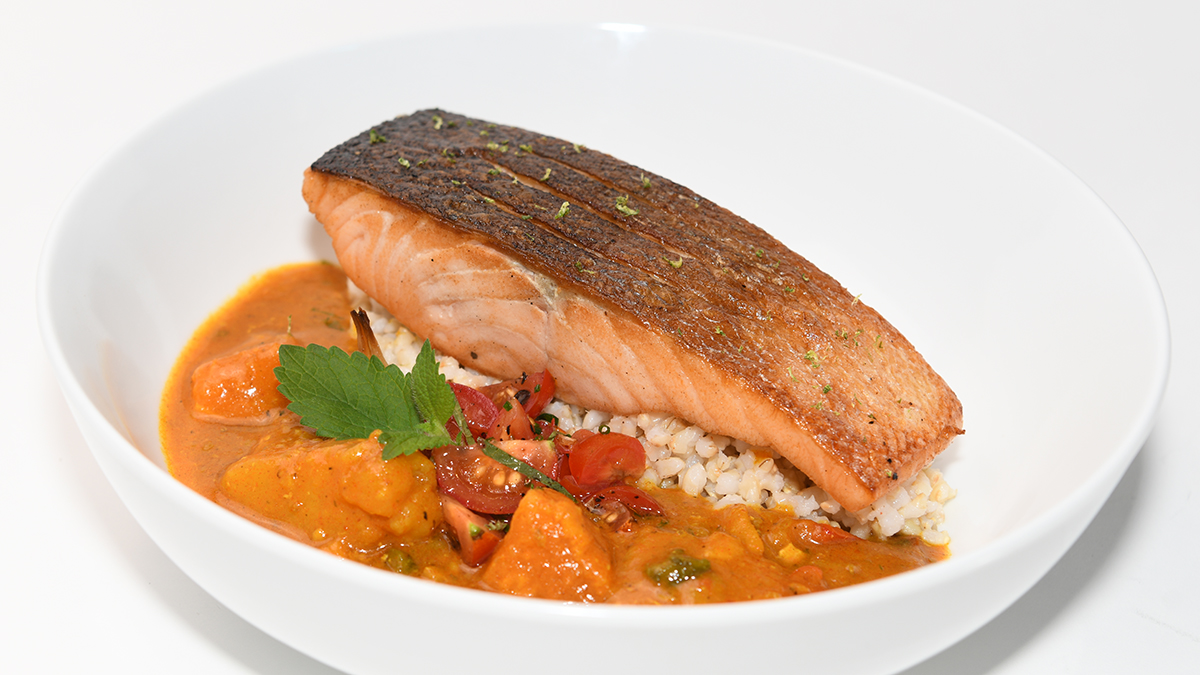 4                  ea.              Center Cut Chilean Salmon Portions, 4 ounces each, skin on, boneless
2                  oz               Olive Oil
1                  oz.             Diced Celery
3                 oz.              Julienne Onion
3                 oz.              Julienne Red Bell Pepper
2                 ea.              Garlic Cloves, minced
1/2              oz.              Ginger, fresh minced
8                  oz.              Peeled Sweet Potato, cut into 1-inch pieces
8                  oz.              Yukon Gold Potato, cut into 1-inch pieces
1                  can             Coconut Milk, unsweetened (13.6 oz)
12                oz.              Chicken stock (or water)
2                  oz.              Red Curry Paste (we use Thai Kitchen brand)
2                  oz.              Maple Syrup (yes, you read that right)
12                oz.              Basmati or Brown Rice (cooked)
Sea Salt, Fresh Cracked Pepper
Cutting Board, Knives, Baking Pan, Large Sauté Pan, Spatula, Medium Pot, Small Metal Spoons, Serving Bowls.
Season salmon portions with salt and pepper. Place on baking tray and brush with olive oil. Preheat oven to medium heat (350 degrees).
Add one-ounce olive oil to large pot and heat until is barely starts to smoke. Add celery, onion, bell pepper, and sauté over medium heat until just tender.
Add garlic and ginger and stir, sautéing for 1-2 minutes.
Add sweet potatoes, Yukon gold potatoes, coconut milk, and chicken stock and stir. Bring to a simmer.
Add red curry paste and maple syrup and simmer for 10 minutes. Taste then adjust seasoning with salt, pepper, and more maple syrup and curry paste if needed.
To finish the dish, pour 1-ounce olive oil into large sauté pan (non-stick preferred) and sear salmon portions skin side down over medium heat until edges of skin start to brown. Transfer the portions to a baking pan lined with foil – skin side up. Bake for 6-8 minutes until just cooked (medium in doneness). Heat rice.
To serve:
Place 3 ounces rice on right side of serving bowl. Ladle 3-4 ounces of coconut sweet potato curry into a serving bowl next to rice. Top rice with salmon fillet and serve.
All our Salmon recipes utilize widely available ingredients that are often prepackaged for safety and hygiene, are easy to prepare, nutritious, and delicious. If you have questions email us at information@chileansalmon.com