Broiled Chilean Salmon with Filipino Pancit Noodles
Salmon with Pancit Noodles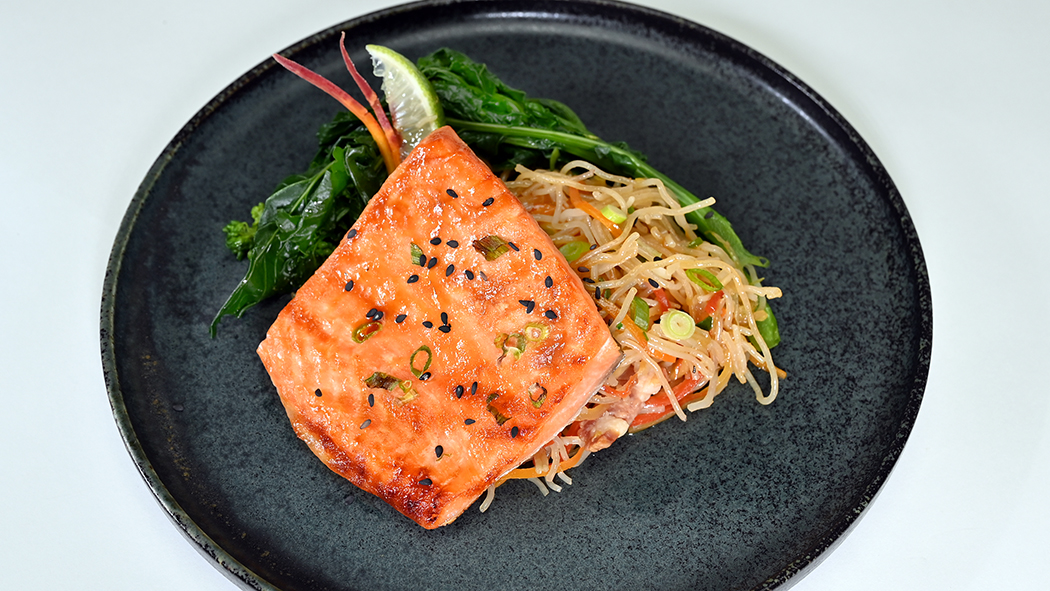 For the Salmon
1 lb.        Chilean Salmon belly fillet, skin on,
1 oz.       Maple sugar (or coarse ground brown sugar)
1 oz.       Soy Sauce, low salt
1 tsp.      Powdered Ginger
For Pancit Noodles
2 oz.       Soybean Oil
1 ea.       Onion, medium in size, julienne
½ Lb.      Carrots, peeled, rinsed, cut julienne
½ Lb.      Celery, rinsed, cut julienne
½ Lb.      Napa Cabbage, rinsed, cut julienne
8 oz.       Chinese Sausage (Lap Xuong Thuong Hang)
2 ea.       Garlic Cloves, minced
1 Lb.       Bijon Rice Noodles, soak in cold water for 20 minutes, drain
½ C.       Soy Sauce, low salt
4 Tbsp.   Oyster Sauce
4 Oz.      Chicken Stock (or water)
Salt & Pepper to taste
4 ea.       Scallions, rinsed, sliced thin
1 Tbsp.   Black Sesame Seeds
medium sized bowls, one large bowl, cutting board, chef's knife, large sauté pan, oven with a broiler (a toaster oven works well).
For the salmon: place fish into large, chilled bowl Combine soy sauce, maple sugar, ginger, and pour mixture over fish fillets, coating evenly. Place fish fillets on baking sheet, skin side down. Pre-heat broiler on high. Broil fish for 4-5 minutes until golden brown and fully cooked.
For the Pancit: Place the soybean oil in a large sauté pan over medium heat. Add onion, carrots, and celery and sauté until partly tender, add cabbage and continue to sauté until vegetables are tender and lightly golden brown. Place sauteed vegetables in large bowl and reserve.
Add sausage to pan and sauté over medium heat until golden brown (3-4 minutes). Add minced garlic and carefully sauté until golden brown. Add soaked noodles to pan with sausage and garlic and continue to cook. Add soy sauce, oyster sauce, and chicken stock to vegetable mixture and toss. Cook gently until noodles are tender. Return vegetables to large sauté pan and toss with noodles. Cook until entire mixture is warm. Season with salt and pepper to taste.
To serve: Place 3-4 ounces of Pancit onto each dinner plate. Top with a portion of salmon and garnish with sliced scallions and sesame seeds. Enjoy.
Note: though pork and chicken are the traditional proteins used in this dish, Chilean Salmon offers a wonderful and healthy twist. Serve with your favorite vegetable if you like (we used steamed broccoli rabe). The result is savory, unique, and delicious – your family will love it.
All our Salmon recipes utilize widely available ingredients that are often prepackaged for safety and hygiene, are easy to prepare, nutritious, and delicious. If you have questions email us at information@chileansalmon.com