Broiled Chilean Salmon with Lobster Salad Gratinée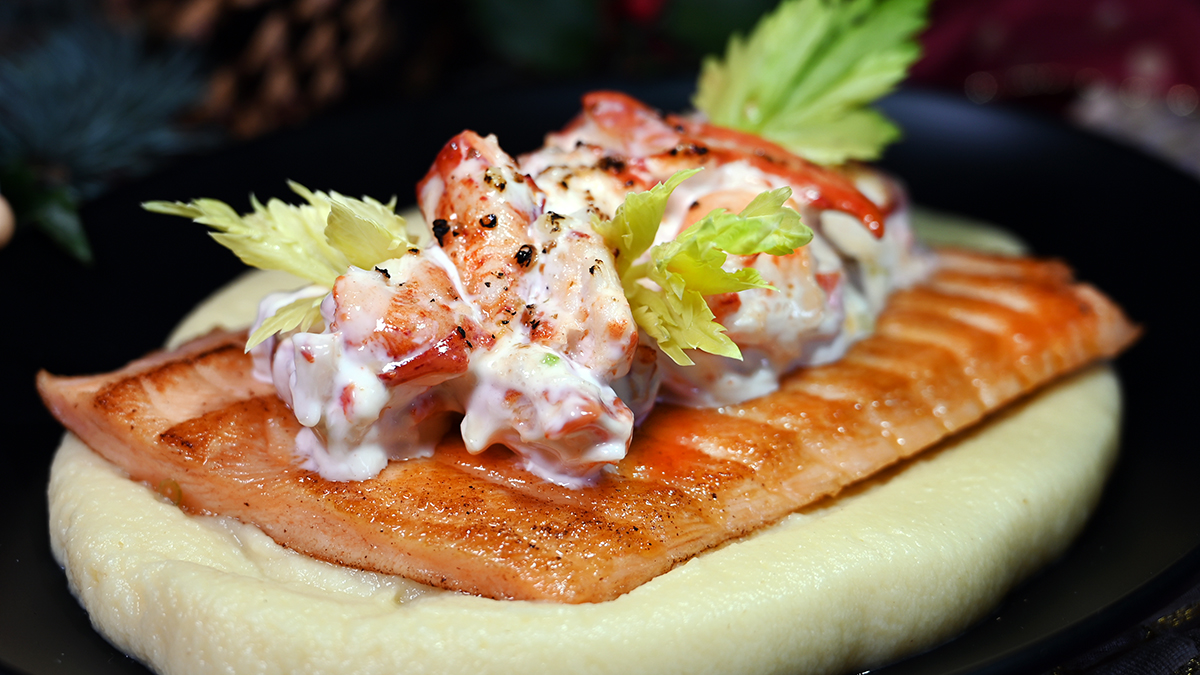 12               oz.              Chilean Salmon Belly Flap, portioned 3 ounces each, skinless boneless
2                  oz.             Olive Oil
6                 oz.              Lobster meat (fresh cooked, knuckles and claws)
1                  oz.             Celery Stalk, washed, diced fine (reserve 12 celery leaves from center of bunch for garnish)
3                  oz.            Mayonnaise (high quality)
1                   lb.              Celery Root, washed, peeled, cut into 8 pieces
4                  oz.              Heavy Cream (or 3 oz. chicken stock with 1 oz. margarine for dairy free)
Sea Salt, Fresh Cracked Pepper
Cutting board, Knives, Sauté Pan, Spatula, Food Processor, Small Metal Spoons, Baking Pan, Serving Plates.
Trim salmon portions so they are even, season with salt and pepper. Place on baking tray and brush with olive oil. Preheat broiler on high.
Cut lobster into even sized pieces (claws usually require cutting, knuckle meat can be left whole). In medium sized bowl, combine lobster meat, celery, and mayonnaise. Season with salt and pepper to taste.
Place celery root in medium sized pot with heavy cream and bring to a gentle simmer. Simmer for 20 minutes until completely tender. Carefully place celery root and heavy cream poaching liquid in food processor or blender and combine until smooth. Season with salt and pepper to taste.
To finish dish, broil salmon portions on high heat for 3-5 minutes until medium to medium rare in doneness. Spoon 1-2 ounces of lobster salad on top of salmon and return to broiler for 1-2 minutes until golden brown. Watch it carefully, the lobster gratinees (browns) quickly.
To serve:
Spoon celery root puree onto serving plate.
Using a spatula, carefully place hot broiled salmon and lobster portion on top of celery root puree.
Garnish with celery leaves and serve.
Options: You can add extra whole butter or olive oil to the celery root while blending to lighten the texture and make it creamier. Feel free to add lemon zest to celery root when serving. You can use any cut of Chilean Salmon, but we like the belly because it is higher in fat.
All our Salmon recipes utilize widely available ingredients that are often prepackaged for safety and hygiene, are easy to prepare, nutritious, and delicious. If you have questions email us at information@chileansalmon.com