Chilean Cured Salmon with Silky Gazpacho, Avocado, Herbs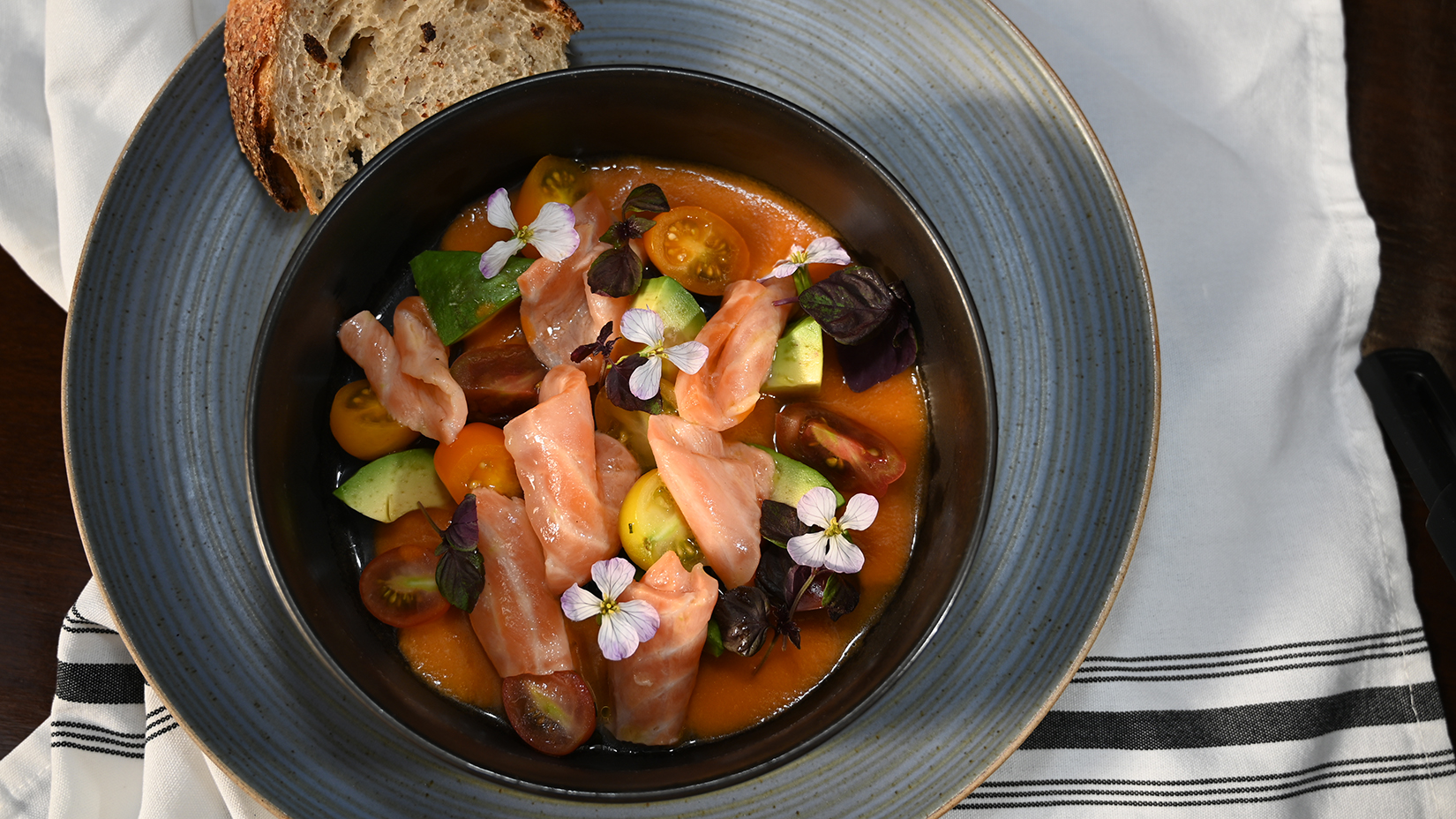 12 oz.              Chilean salmon loin fillets, skin on,
1 oz.                 Kosher salt
1 oz.                 Granulated Sugar
1 ea.                 Lime – zested (juice reserved for gazpacho)
3 Ea.                Medium tomatoes, ripe, cored and cut into large pieces
2 Ea.                Red bell peppers, roasted, peeled, seeded
1 Ea.                Poblano pepper, roasted, peeled, seeded
2 Ea.                Cucumbers, peeled, cut into large pieces
2 Ea.                Large shallots, peeled, cooked in microwave 1 minute
2 Ea.                Garlic cloves, cooked in microwave 1 minute
1/4 Cup           Rice wine vinegar
½ Cup             Olive Oil
Lime juice, from lime mentioned above
Salt and Pepper to taste
2 Ea.               Avocados, ripe, split, seeded, cut into 16ths.
10 Ea.             Cherry tomatoes, ripe, washed, cut in half
Fresh herbs for garnish
Glass Baking Dish, Large Bowl, Small Bowl, Peeler, Blender, Cutting Board, Chef's Knife
Season salmon liberally with kosher salt, sugar, and lime zest, place on glass baking dish, cover with wax paper. Refrigerate for 24 hours to allow fish to cure*. Once cured, continue with step 2 below.
Prepare gazpacho by placing tomatoes, peppers, cucumbers, shallots, garlic, and rice vinegar into blender and pulsing until smooth.
While blender is running on medium speed, gradually add olive oil until emulsified and smooth. Stop blender, taste gazpacho, season with lime juice, salt, and pepper to taste.
Assemble by spooning 2-3 ounces of gazpacho into a serving dish. Finish by topping with 2 ½ – 3 ounces thinly sliced cured salmon. Garnish with avocado, split cherry tomatoes, herbs, and herb flowers.
*Curing is a process where salmon is coated with salt (and sometimes sugar) to draw out moisture via osmosis. The process lowers the level of water in the fillet causing it to firm up. The decreased water level also helps preserve the fish.
All our Salmon recipes utilize widely available ingredients that are often prepackaged for safety and hygiene, are easy to prepare, nutritious, and delicious. If you have questions email us at information@chileansalmon.com