Chilean Salmon with Almond Celery Root Skordalia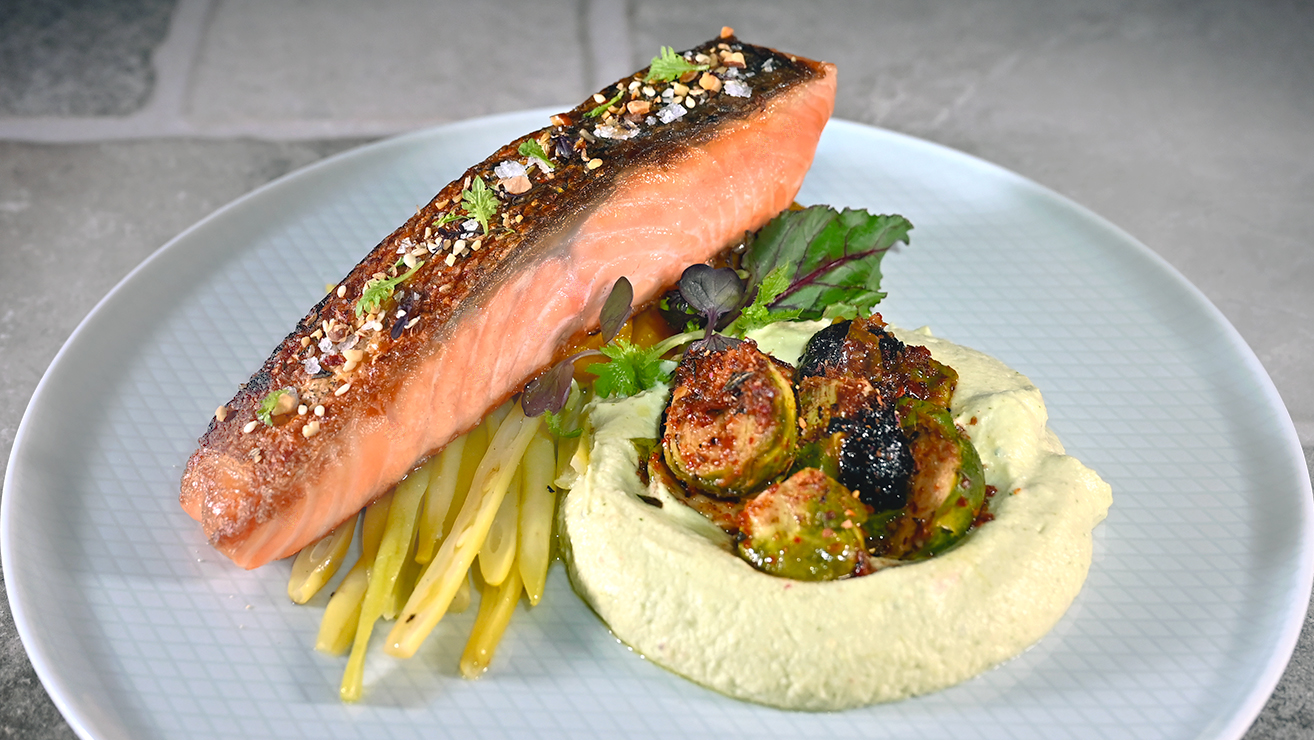 Salmon Ingredients:
1 lb.                        Chilean salmon fillets, skin on, cut into four – 4oz portions,
1/2 oz.                    Kosher salt
1/4 oz.                    Aleppo Pepper Powder
Olive Oil
Skordalia*:
2 oz.                       Extra-virgin olive oil
4 oz.                       Yellow Onion, Quartered
2 oz.                       Garlic cloves, minced.
1 lb.                        Celery root, peeled, cut into 1/8ths.
4 oz.                       Almonds, whole, blanched.
½ bc.                      Cilantro, rinsed, stems included
3 oz.                       Olive Oil
2 oz.                       Lemon Juice, fresh squeezed
Salt and Pepper to taste
Brussels Sprouts
1 lb.                        Brussels Sprouts, rinsed, trimmed, and split.
2 Tbsp.                   Honey
2 Tbsp.                   Rose Harissa
2 Tbsp.                   Olive Oil
Salt and pepper to taste.
Medium pot, Blender, Sauté Pan, Chef's knife, Medium Bowl, Metal Spoon, Spatula
Season salmon with kosher salt and Aleppo Pepper powder, drizzle with olive oil
Bring a medium size pot of salted water to a boil and add onion, garlic, and celery root. Simmer until celery root is tender. Remove from heat and add almonds to water. Let steep for 5 minutes.
Place onions, garlic, celery root, and almonds in a blender and pulse adding water from pot until mixture starts to churn.
Add cilantro to blender along with olive oil and lemon juice. Blend until smooth adding more poaching water and olive oil until Skordalia is creamy smooth
Combine Brussels sprouts in a bowl with honey, Harissa, and olive oil. Toss until evenly coated and place on a baking dish. Roast in a 500 degree oven until charred and tender.
To finish, sear salmon skin side down in a pan until the skin is crips and the filet partially cooked. Plip and finish cooking.
Serve the salmon garnished with additional flake salt and Aleppo pepper and a side of Skordalia topped with Brussels sprouts.
*Skordalia is a puree of garlic in a base of nuts, potatoes, or bread of Greek origin. We prefer using a base of almonds and root vegetables like celery root, parsnip, or carrots.
All our Salmon recipes utilize widely available ingredients that are often prepackaged for safety and hygiene, are easy to prepare, nutritious, and delicious. If you have questions email us at information@chileansalmon.com