Chilean Salmon Bagel with Avocado and Egg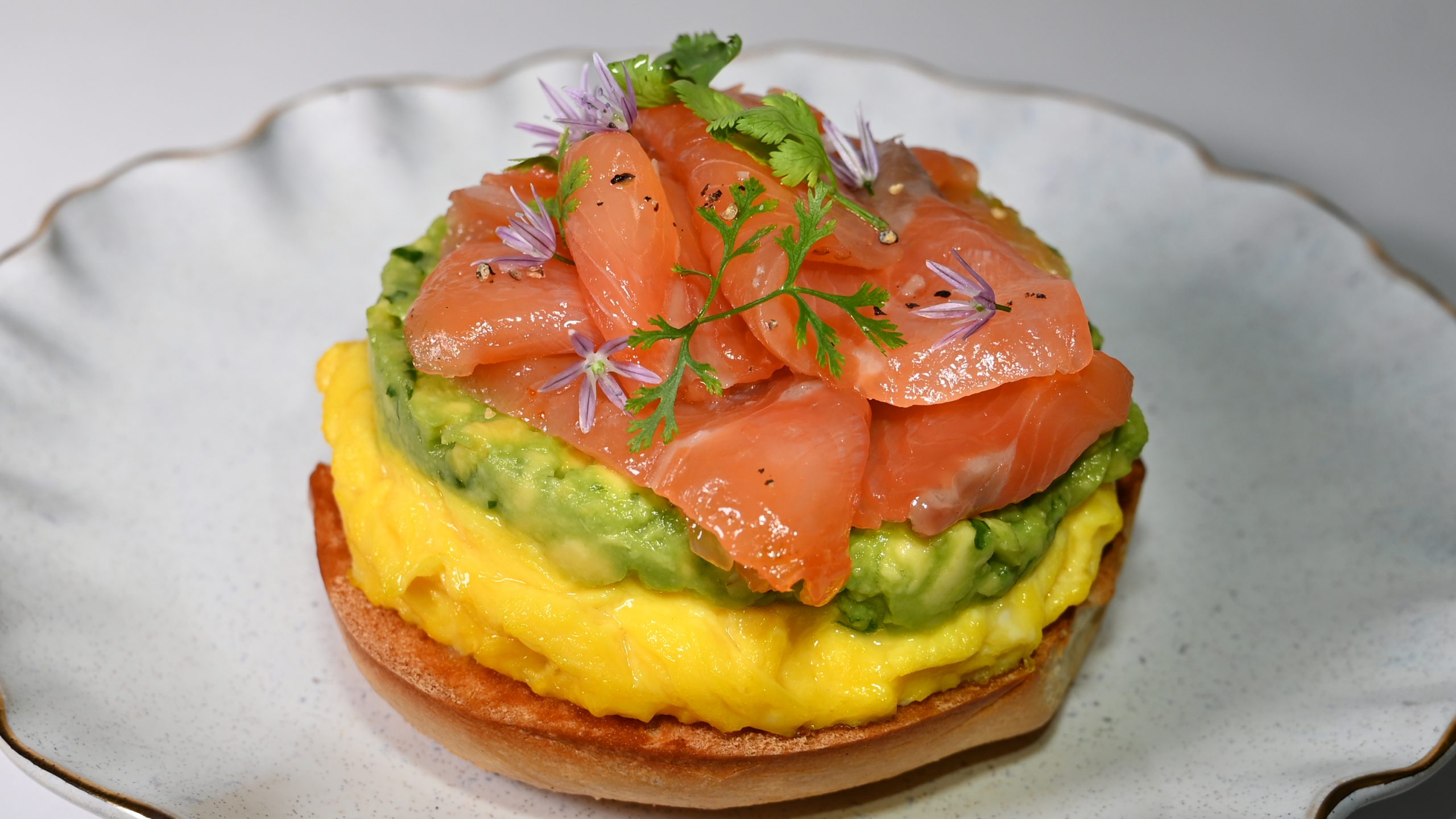 12 oz.              Chilean salmon loin fillets, skin on,
1 oz.                Kosher salt
1 oz.                Granulated Sugar
½ tsp.             Ginger powder
4 Ea.                Avocados, ripe
1 Ea.                Fresh Lime
1 Tbsp.            Parsley, fresh minced
4 Ea.                Plain Bagels
8 Ea.                Eggs
2 Oz.                Olive Oil
Salt and Pepper to taste
Glass Baking Dish, Large Mixing Bowl, Small Bowl, Non-Stick Pan, Spatula, Cutting Board, Chef's Knife
Season salmon liberally with kosher salt, sugar, and ginger, place on glass baking dish, cover with plastic wrap. Refrigerate for 24 hours to allow fish to cure*. Once cured, continue with step 2 below.
Prepare avocado by removing skin and pit then gently crushing flesh in a small bowl. Season with a squeeze of fresh lime and chopped parsley. Stir until smooth with some chunks. Salt and pepper to taste.
Toast bagels – while bagels are toasting, prepare scrambled eggs.
Crack eggs into large mixing bowl and beat until smooth. Cook scrambled eggs in non-stick pan coated with olive oil stirring gently until firm.
Assemble by placing egg on top of toasted bagel followed by a dollop of fresh avocado. Finish by topping bagel with 2 ½ – 3 ounces thinly sliced cured salmon.
Option: Garnish with fresh herbs.
*Curing is a process where salmon is coated with salt (and sometimes sugar) to draw out moisture via osmosis. The process lowers the level of water in the fillet causing it to firm up. The decreased water level also helps preserve the fish.
All our Salmon recipes utilize widely available ingredients that are often prepackaged for safety and hygiene, are easy to prepare, nutritious, and delicious. If you have questions email us at information@chileansalmon.com