Chilean Salmon – Cranberry Maple Pecan Glaze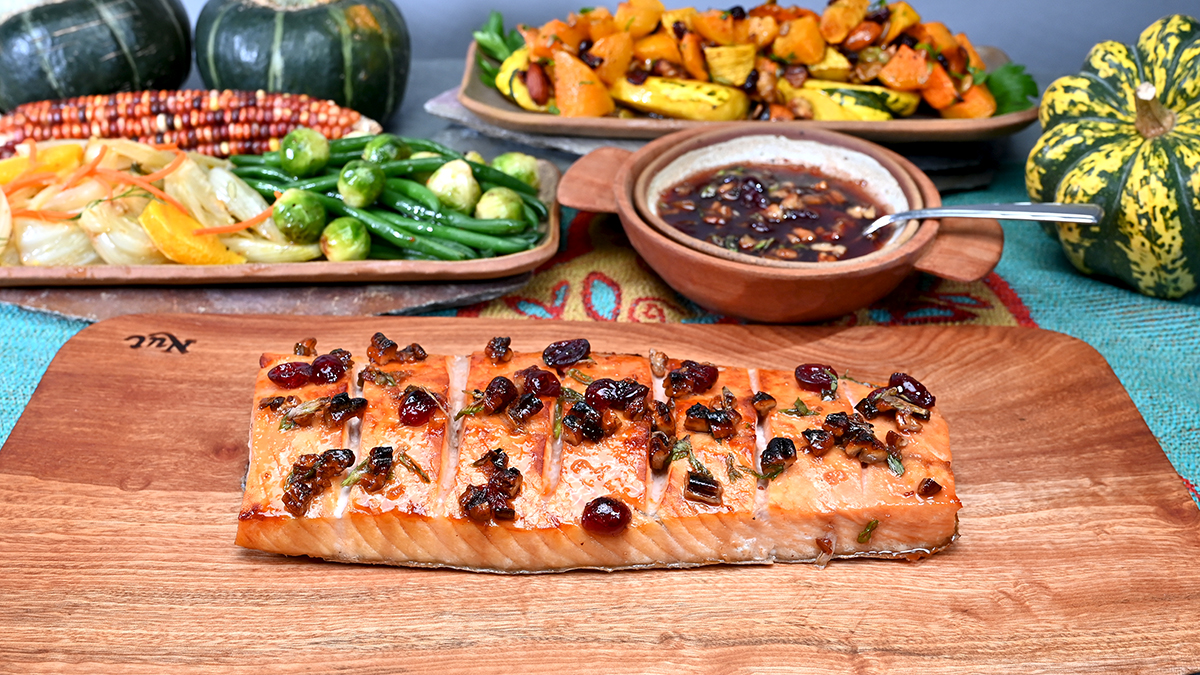 1              ea.           Side of Chilean Salmon – skin on (approximately 2.5 lbs.)
Salt and pepper
1              oz.           Olive Oil
4              oz.           Maple Syrup
2              oz.           Water
1/2          C.             Fresh Cranberries, cut in half
¼             C.             Pecans, toasted and lightly chopped
1              Tbsp.       Pickled Jalapeno, minced
2              Tbsp.       Corn Starch (dissolved in 1 ounce of cold water)
Roasting pan, cutting board, small saucepan, serving platter.
Place Chilean salmon filet on cutting board, skin side down. Score the fillet by cutting 1/3 of the way through the fillet every 2½ – 3 inches moving left to right from the tail to the head end. Season with salt and pepper.
Combine Maple syrup, water, cranberries, pecans, and pickled jalapenos in small saucepan and bring to a quick boil and then reduce glaze to a simmer and cook for 6-8 minutes.
Add cornstarch and water mixture to simmering glaze and stir until thick. Remove from heat. Taste – adjust with salt and pepper if necessary.
Preheat oven to 400 degrees. Rub roasting pan with olive oil and place salmon skin side down onto the pan. Place salmon in oven and roast for 3-4 minutes.
Remove salmon from oven, drizzle, or brush with glaze, return salmon to oven and cook 8-10 minutes.
Remove from oven and carefully transfer salmon filet to serving platter using a large, wide spatula.
Drizzle with extra sauce and serve with your favorite sides (pictured with sautéed fennel, julienne carrot, and orange, Brussels sprouts and green beans in butter, sweet dumpling, and butter nut squash with nuts, pepitas, and dry cherries.)
Note: the pickled Jalapeno's are the secret ingredient in this dish that really brightens the flavor of the glaze which in turn compliments the salmon. It is delicious!
All our Salmon recipes utilize widely available ingredients that are often prepackaged for safety and hygiene, are easy to prepare, nutritious, and delicious. If you have questions email us at information@chileansalmon.com