Chilean Salmon Guvec with Zhoug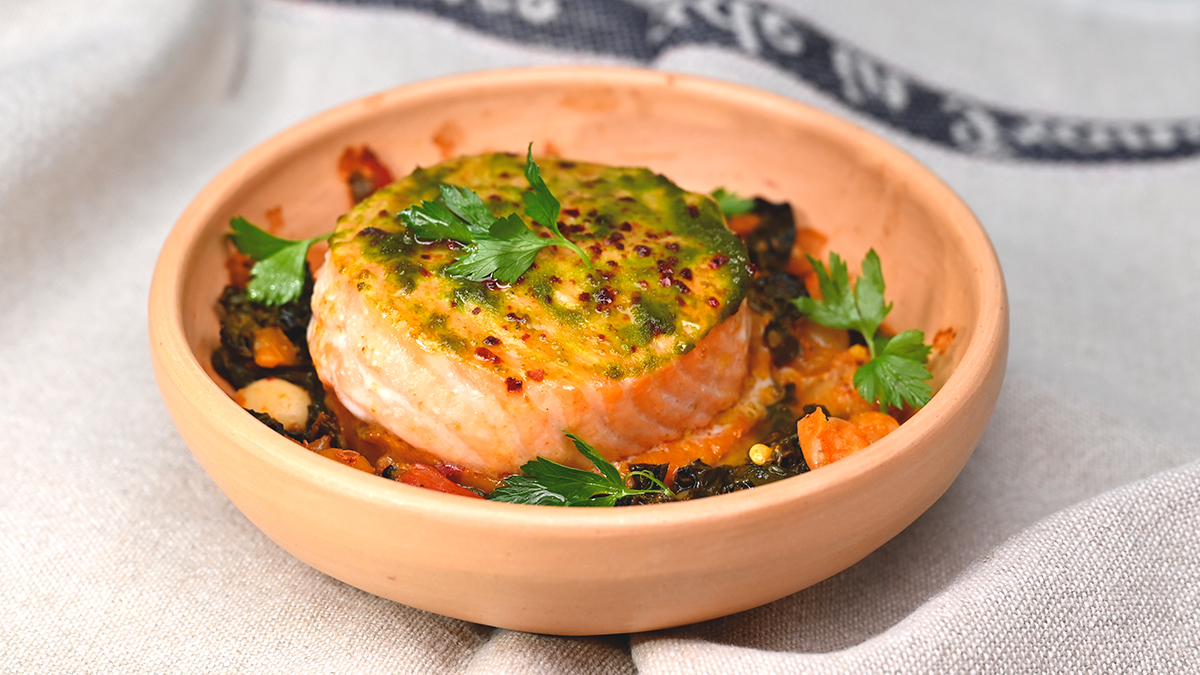 Ingredients:
4              ea.          Chilean Salmon – Filet Portions skin off (4 oz each, 1 lb. total)
Salt and pepper
1              oz.           Olive Oil
For the Güveç
2              oz.           Onion, diced,
1              ea.           Garlic clove, peeled, minced,
4              oz.           Butternut Squash, washed, peeled, large dice,
4              oz.           White Beans, drained, rinsed,
4              oz.           Tuscan Kale, washed, rough chop,
4              oz.           Carrots, washed, peeled, large dice,
12             oz.          Chicken Stock or Water,
1/2          Cup          Diced Tomatoes,
1              Tbsp.       Tomato paste,
1              Tbsp.       Aleppo Pepper or red pepper flakes,
1              Tsp.         Cumin Seed, lightly toasted and crushed,
For the Zhoug
1              Cup         Cilantro, leaves and stems, washed, rough chop,
1              Ea.           Serrano Chile, rough chop (or Jalapeno)
2              Ea.           Garlic Cloves, peeled,
1              Tsp.         Cumin Seed (lightly toasted)
2              Ea.           Cloves (the baking kind), ground
1              Pinch      Cardamom powder (go light)
4              Oz.          Olive Oil
Salt to taste
Sugar or honey to taste,
1/8          Bc.           Italian parsley, rinsed,
4 each small terra cotta or ceramic baking dishes, stainless steel bowl, cutting board, chef's knife, small pastry brush, small blender or food processor.
Place Chilean salmon filet on cutting board, skin side down. Confirm the filet fits into the ceramic bowl. Trim if necessary (we tripped our filets into circles). Season with salt and pepper, drizzle top with olive oil.
Preheat oven to 350 degrees F.
Prepare the Güveç by combining the onion, garlic, squash, white beans, kale, carrots, chicken stock, tomato paste, Aleppo pepper, and cumin seed in a large stainless bowl. Toss until well mixed.
Lightly oil the ceramic bowls and evenly distribute the vegetable mixture into each bowl. Pour excess chicken stock equally in each of the four bowls.
Prepare the Zhoug by placing the cilantro, serrano pepper, garlic, cumin, clove, cardamom, and olive oil into a small food processor or blender. Pulse until smooth. Taste, adjust with salt and honey. If you prefer a thicker consistency, add more cilantro (including stems) and pulse.
Place salmon portion on top of the vegetables and brush with Zhoug.
Place bowls in hot even to bake. It may be easier to place all four bowls on a baking sheet before placing the baking sheet into the hot oven. Cook for 8-10 minutes.
Remove bowls from oven. Brush the filets with more Zhoug. Garnish with Italian parsley and serve.
Note: Güveç are Turkish stews baked in a clay dish or pot (usually made with meat, poultry, or vegetables). In eastern Turkey and some Baltic countries, it is  traditional for a cook to carry their Güveç to the neighborhood bakery to finish in a hot stone oven. This is our interpretation using salmon and Zhoug.
All our Salmon recipes utilize widely available ingredients that are often prepackaged for safety and hygiene, are easy to prepare, nutritious, and delicious. If you have questions email us at information@chileansalmon.com