Chilean Salmon, Leeks, Boulangère Potatoes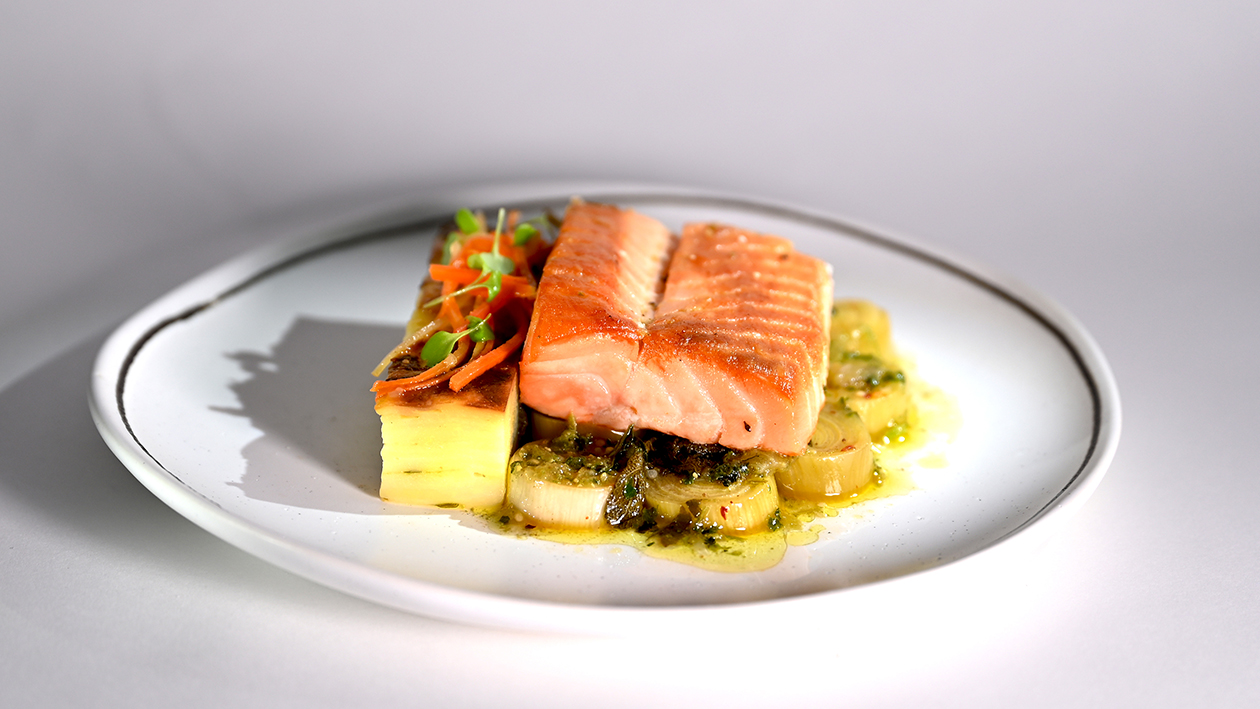 For the Salmon:
4          ea.        Chilean Salmon Loin Portions, Skinless, boneless, fat line removed.
2          oz.        Olive oil,
Salt and pepper to taste
For the Potatoes
2          lb.         Yukon Gold potatoes, peeled, washed, sliced 1/8 inch thick on mandolin.
2          oz.        Olive Oil
1          Tbsp     Fresh Rosemary, chopped.
1          tsp.       Salt
1          tsp.       Black pepper, fresh cracked
1          cup       Chicken stock.
For the Leeks
1          ea.         Large leek (approximately 1 lb.)
1          oz.         Rice Wine Vinegar (Mirin)
1          Tbsp.    Fresh Basil, minced.
1          Tbsp.    Garlic, minced.
¼         tsp.      Aleppo Pepper flakes (or red pepper flakes)
Garnish: blanched julienne carrots, Arugula sprouts.
Small Square Glass Baking Dish, Plating Tong, Small Mixing Bowl, Plating Spoons, Cast Iron Pan, Sauce Pan, Aluminum foil.
Season salmon loins with salt and pepper. Allow to rest for 20 minutes. Preheat oven to 350 degrees.
Lightly oil glass baking dish with olive oil. Layer potatoes, rosemary, salt, and pepper in baking dish until all potatoes are used. Pour chicken stock over potatoes. Cover with aluminum foil and place in oven. Bake for 25 minutes. Remove foil, Bake for another 10 minutes until golden brown on top. Remove from heat and allow to set at room temperature for 15 minutes.
Trim leek top 1" above where it turns white. Using the white part, peel the first outer layer from leek and rinse, assuring any dirt caught in the center is loosened and removed. Slice leeks into ½ inch rings. Place in sous vide or zipper bags with vinegar, basil, garlic, and pepper. Remove air from bag and seal. Heat a pot of simmering water on the stove and add bag of leeks. Simmer in bag on low temperature (160 degrees) for 20 minutes until tender.
Heat cast iron pan over medium heat. Add olive oil and place seasoned salmon fillets in pan. Cook for 4-5 minutes on one side and then flip. Cook for 2 more minutes and shut off the heat. Allow fish to rest in pan for 3-4 minutes.
To serve, pop Boulangère potatoes out onto cutting board and cut a rectangular portion from the batch.
Place potatoes onto service plate and garnish with julienne carrot and Arugula sprouts
Add 10 – 11 leek rings drizzled with their liquid to the center of the plate.
Place salmon fillet on top of leek. Serve.
 *Leeks are high in vitamins A, C, and K, and pair wonderfully with Chilean Salmon. They are underutilized as a vegetable. Cooking the leeks sous vide style in a bag seals in flavor and produces a tender and flavorful result.
All our Salmon recipes utilize widely available ingredients that are often prepackaged for safety and hygiene, are easy to prepare, nutritious, and delicious. If you have questions email us at information@chileansalmon.com