Chilean Salmon Mapo Doufu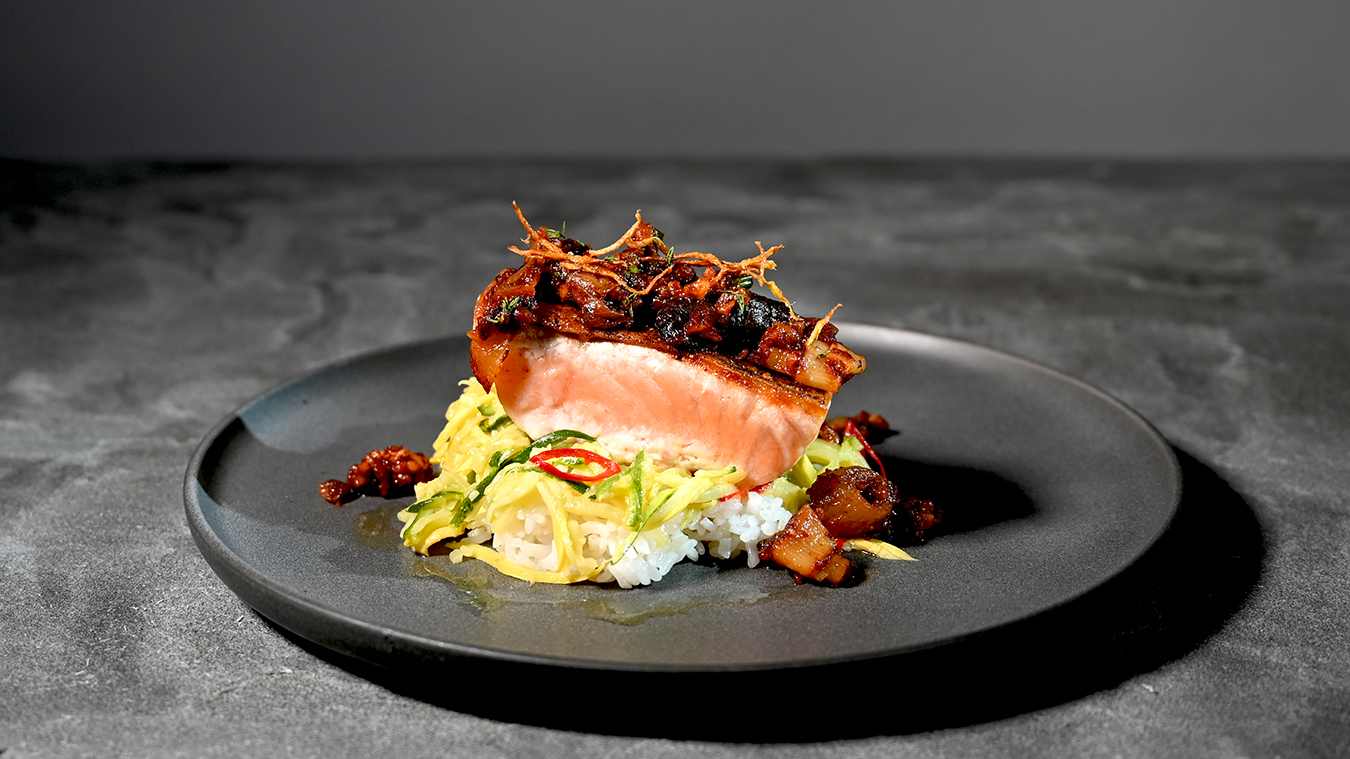 For the Salmon
1 lb.                        Chilean Salmon fillet, skin on. Cut into 4 even portions (we prefer center cut filet portions)
1 Tbsp                    Olive Oil
For the Mapo Doufu
2 C                          Chicken Stock
½ Oz.                     Dry Shiitake Mushrooms
4 Oz.                      Oyster mushrooms, trimmed, chopped
12 Ea.                     Scallions, cut into ½ inch lengths
1 Pk.                       Soft tofu, cut into ½ inch cubes
1 Tsp.                     Sichuan peppercorns, toasted, crushed (available online)
10 Ea.                    Garlic cloves, peeled
1 (3-inch)              Ginger, fresh, peeled and cut into 1/4-inch rounds, lightly crushed
½ C.                       Broad bean chili paste (available online)
1 T.                         Fermented black beans (available online)
½ C.                       Vegetable oil
1 T.                          Gochugaru Chili Flakes (available online)
2 T.                         Hoisin sauce (available online)
2 Tsp.                     Toasted sesame oil
2 T.                         Tamari soy sauce
1 T                           Cornstarch
*Serve with white rice
medium sized bowls, cutting board, spatula, two medium pots, tongs, chef knives, small food processor, non-stick pan
Heat chicken stock in small pot until simmering, add dry mushrooms and remove from heat. Allow to soak 3-5 minutes until tender. Remove mushrooms and cool, then chop fine, reserve. Keep liquid in pot for next step.
Place scallions and tofu into pot with mushroom-chicken stock and bring to a simmer. Cook for 2-3 minutes and remove from heat. Make fermented flavoring paste by processing peppercorns, garlic, ginger, chili paste, black beans, vegetable oil, and chili flakes in food processor for 1 – 1½ minutes.
Heat 1 ounce vegetable oil in sauté pan and add mushrooms. Sauté over medium heat until mushrooms are tender. Add fermented paste to mushrooms and continue to cook for 2-3 minutes over medium heat. Add tofu and scallions to pan along with mushroom-chicken stock. Cook for 1-2 minutes, add hoisin sauce, sesame oil, and simmer. Combine soy sauce and corn starch in small bowl until cornstarch is dissolved and add to simmering pan. Stir until thick. Taste, adjust seasonings with salt, pepper, and cayenne (if needed).
For the salmon – place tablespoon of olive oil in sauté pan (we prefer a non-stick skillet) and heat to medium temperature. Season both side of salmon and place skin-side down in pan and brown (2-3 minutes), flip the salmon and cook for 1 more minute then turn off the heat.
To serve
Portion 2-3 ounces of cooked rice on plate. Add vegetable accompaniment of your choice. Top with seared salmon, skin side up. Spoon 2-3 ounces of Mapo Doufo over salmon and serve piping hot.
All our Salmon recipes utilize widely available ingredients that are often prepackaged for safety and hygiene, are easy to prepare, nutritious, and delicious. If you have questions email us at information@chileansalmon.com