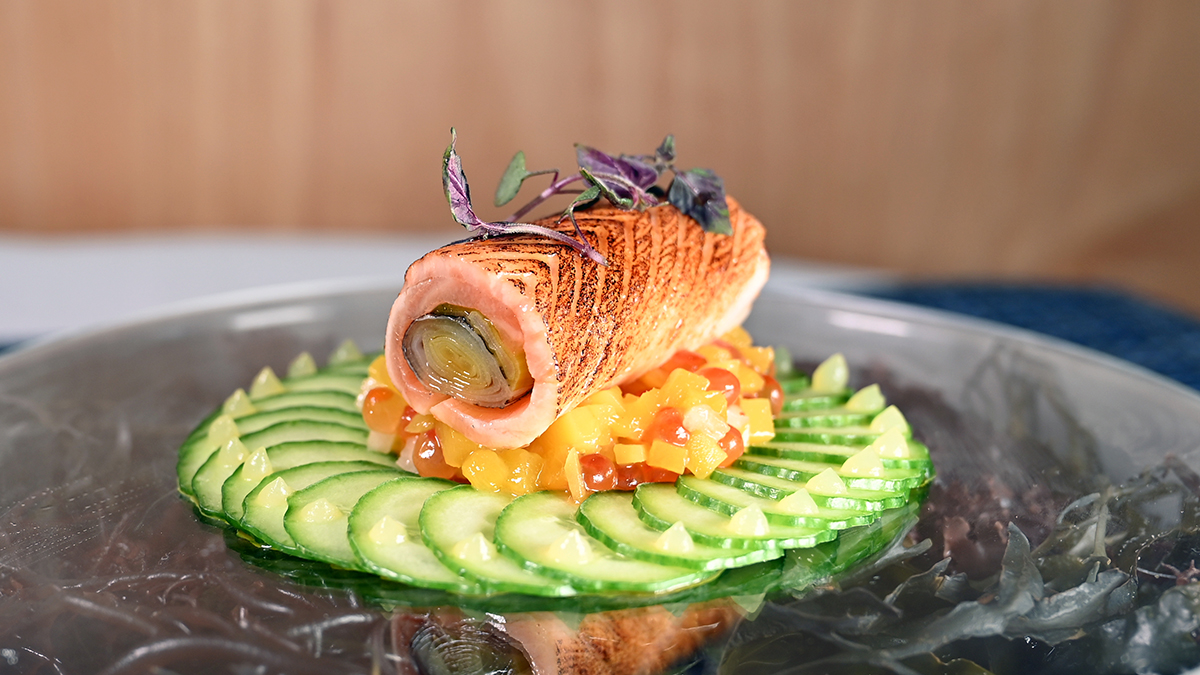 For the Salmon:
4          ea.                   Chilean Salmon Loin, sliced into a thin sheet, 1/8 inch thick by 4 inches long, x 4 inches wide.
2          oz.                   Togarashi Spice (available online)
4          ea.                   Charred leek, cut 4 inches long.
12         ea.                  Red Mizuna Mustard Greens (for garnish)
For the Sonomono Cucumber
1          ea.                    Japanese cucumber sliced very thin.
2          oz.                    Rice wine vinegar
1/2      oz.                    Tamari
1          tsp.                   Honey powder or Maple sugar
1          tsp.                   Salt
Combine all ingredients together in a small bowl, reserve.
 For the Asian Pear-Mango and Salmon Roe "Relish"
1/2      cup                 Asian Pear, Diced ¼"
1/2      cup                 Mango, Diced ¼"
2          oz.                  Smoked Salmon Roe
1          tsp.                 Sesame Oil
2          tsp.                 Grapeseed Oil
1          Tbsp.              Cilantro, Fresh Chopped
1          tsp.                  Black Sesame Seed, Toasted
Salt to taste
Combine all ingredients together in a small bowl reserve for service.
For the Kabayaki Sauce
2          oz.                   Mirin
2          oz.                   Dry Sake
1.5        Tbsp.             Honey powder or Maple sugar
2          oz.                   Tamari
 For the Lemon Gel
1          oz.                    Champagne Vinegar
2          oz.                    Lemon Juice
1          pinch                Turmeric (for color)
7          g.                       Agar Agar (measured in grams for precision –or approximately 1/4 oz.)
Plating Tong, Small Mixing Bowls, Small Squeeze Bottles, Service Plate, Plating Spoons, Small Ring Mold, Butane Torch, Mandolin for Cucumbers
Method for the Kabayaki Sauce:
In a small sauce pot combine mirin, sake, and honey powder; bring to a boil and cook for 1-2 minutes to remove alcohol.
Add Tamari and simmer for 5-6 minutes or until mixture reduces by half; for a thicker sauce reduce slightly more than half.
Chill and reserve for glaze.
 Method for the Lemon Gel:
Combine all ingredients together in a small sauce pot and simmer for 10 seconds, chill.
Place chilled mixture in a blender and blend mixture together by plunging the up and down until mixture is thick. If needed add warm water to adjust consistency to a medium thick puree.
Place blended mixture into a small squeeze bottle fitted with a fine tip, reserve for plating.
 To Finish the Dish:
Peel leeks down to the approximate size of a dime. Poach leeks in salted water or dashi broth until tender. Remove and char on all sides with a torch. Wrap each leek tightly in plastic to compress and refrigerate.
Lay salmon "sheet" flat on a long piece of plastic wrap and sprinkle with togarashi spice. Place a leek on top and proceed to roll salmon around leek into a very tight cylinder: The roll should be 1 to 1.25 inches in diameter. Repeat process until all four rolls are complete. Refrigerate for 2-3 hours.
Once chilled, using a sharp slicing knife, trim the ends and unroll salmon negimaki. Place salmon negimaki on a wire rack and torch until slightly charred. Coat with kabayaki sauce and reserve for plating.
Decorate the plate with thin slices of Japanese cucumber to which a small drop of lemon gel is placed on each one.
Place Asian pear relish in center of cucumber ring.
Place Negimaki on top of Asian pear "relish" and decorate with red baby Mizuna.
Negimaki is a Japanese American food consisting of broiled strips of meat marinated in teriyaki sauce and rolled with scallions. Originally, beef was used as the protein but other types of proteins such as chicken or fish are now commonly used.
All our Salmon recipes utilize widely available ingredients that are often prepackaged for safety and hygiene, are easy to prepare, nutritious, and delicious. If you have questions email us at information@chileansalmon.com