Chilean Salmon Paella with Mussels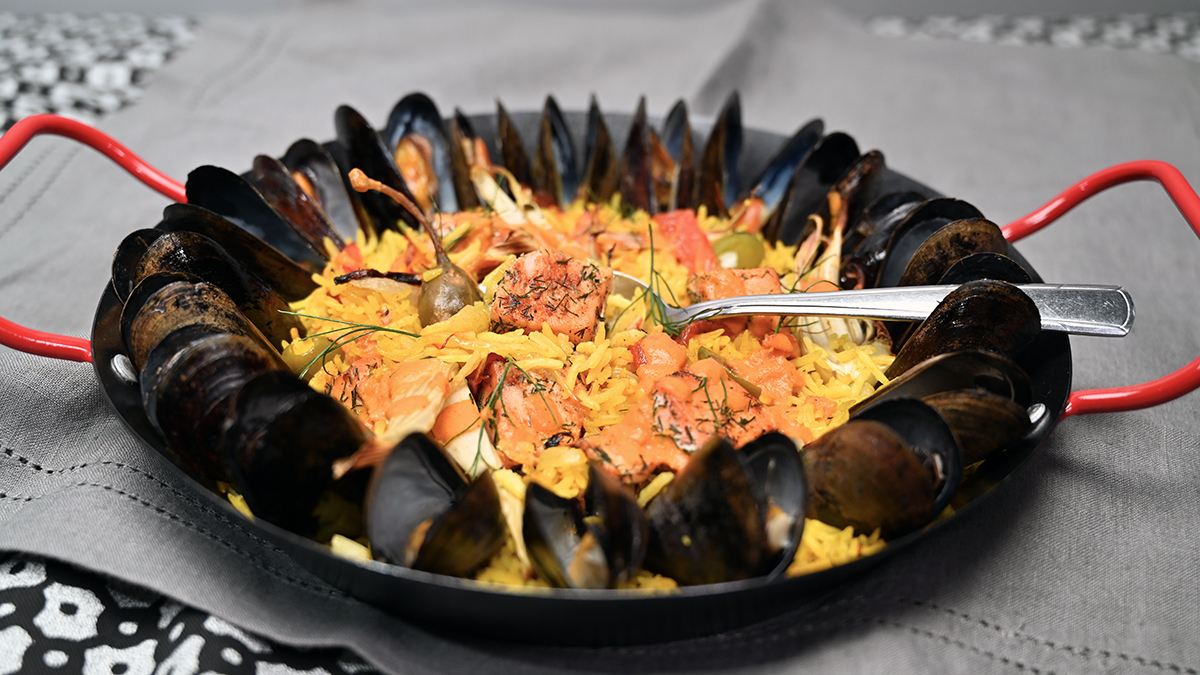 12 oz.                     Chilean Salmon Fillet, boneless, skinless, cut into ½ inch cubes
3 oz.                       Olive Oil
2 oz.                       Garlic cloves, peeled and minced
2 oz.                       Red Bell Pepper, roasted, peeled, large dice
2 oz.                       Fennel bulb, trimmed, cut into ½ inch wedges or slices
2 oz.                       Onion, peeled, diced
½ Cup                    Manzanilla Olives, split in half
1 ½ Cups              Long grain rice
2 ½ Cups              Chicken broth
½ Cup                    Dry white wine
½ tsp.                    Saffron threads,
18-24 Ea.              Mussels, medium size, washed, debearded
Salt and Pepper to taste
Medium sized pot (or Dutch oven), metal spoons, bowls for prep, cutting board, small chef's knife, spatula, Paella pan for serving.
Preheat oven to 325 degrees. Season salmon with salt, pepper, paprika and drizzle with olive oil.
Pour olive oil into a large pot or Dutch oven and heat to medium temperature. Sear and then remove salmon cubes (they will be ¼ cooked).
Add garlic, bell pepper, fennel, and onion to pot. Sauté until fennel and onion begin to tenderize (3-4 minutes). Add olives and stir.
Add rice to pot and stir until coated with olive oil and heat for 1-2 minutes. Add chicken broth, white wine, saffron. Season with salt and pepper. Cover and cook for 12 minutes until rice is tender (90% cooked).
Transfer rice mixture to Paella pan. Line edge of pan with fresh mussels and scatter salmon cubes into rice mixture in center of the pan. Place in 325-degree oven for 7-9 minutes until mussels are cooked and salmon is flaky.
Serve right out of the pan.
Optional Garnish: Caper Berries, Fennel Fronds, Red Pepper Puree
Click here for more information about Paella
Click link below for additional delicious and nutritious Chilean salmon recipes!
All our Salmon recipes utilize widely available ingredients that are often prepackaged for safety and hygiene, are easy to prepare, nutritious, and delicious. If you have questions email us at information@chileansalmon.com