Chilean Salmon Poke, Cucumber, Amaranth Leaf, Herbs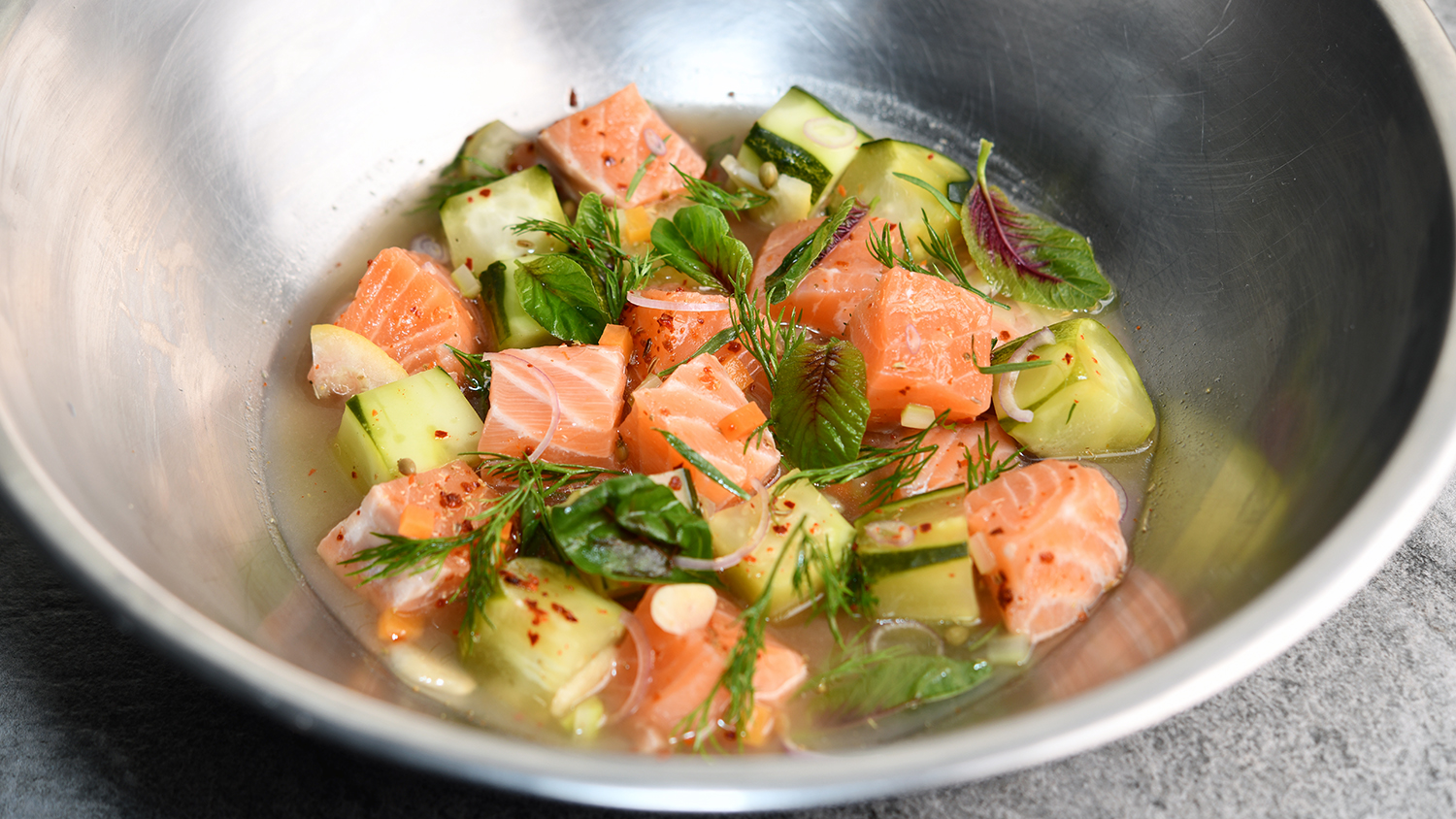 Salmon Ingredients:
12 oz.                          Chilean salmon trim and belly, skin removed, cut into ½ inch cubes,
1/2 oz.                          Maple sugar
1/2 oz.                          Kosher salt
1/4 oz.                          Ginger powder
Vegetable Garnish & Dressing:
8 oz.                             English Cucumber, washed, peeled, cut into ½ inch cubes,
1 ea.                             Shallot, peeled, halved, sliced paper thin,
2 oz.                             Rice wine vinegar,
2 oz.                             Olive oil,
1 oz.                             Carrot, finely diced,
1 oz.                             Celery, finely diced,
1/4 bc.                          Amaranth leaf, (approximately 20 leaves in total)
1/4 bc.                          Fresh dill, rinsed, picked into sprigs,
¼ oz.                            Merken Pepper (smoked Mapuche pepper from Chile) – or Chipotle powder,
Salt and fresh cracked black pepper to taste
Cutting Board, Chef's Knife, Large Stainless Bowl.
Combine maple sugar, kosher salt, ginger powder and sprinkle evenly over salmon cubes and allow to cure in a bowl for 1 hour – refrigerated.
Combine cucumber, shallot, vinegar, olive oil, carrot, and celery. Toss together and allow to marinate for 40 minutes – chilled in the refrigerator.
Combine chilled salmon and cucumber mixture. Taste, and adjust salt and pepper.
Garnish with Amaranth leaves, fresh dill, and a dusting of Merken pepper.
Serve chilled over fresh salad greens or toasted French bread.
All our Salmon recipes utilize widely available ingredients that are often prepackaged for safety and hygiene, are easy to prepare, nutritious, and delicious. If you have questions email us at information@chileansalmon.com