Chilean Salmon Salad, Winter Radish, Red and Golden Beets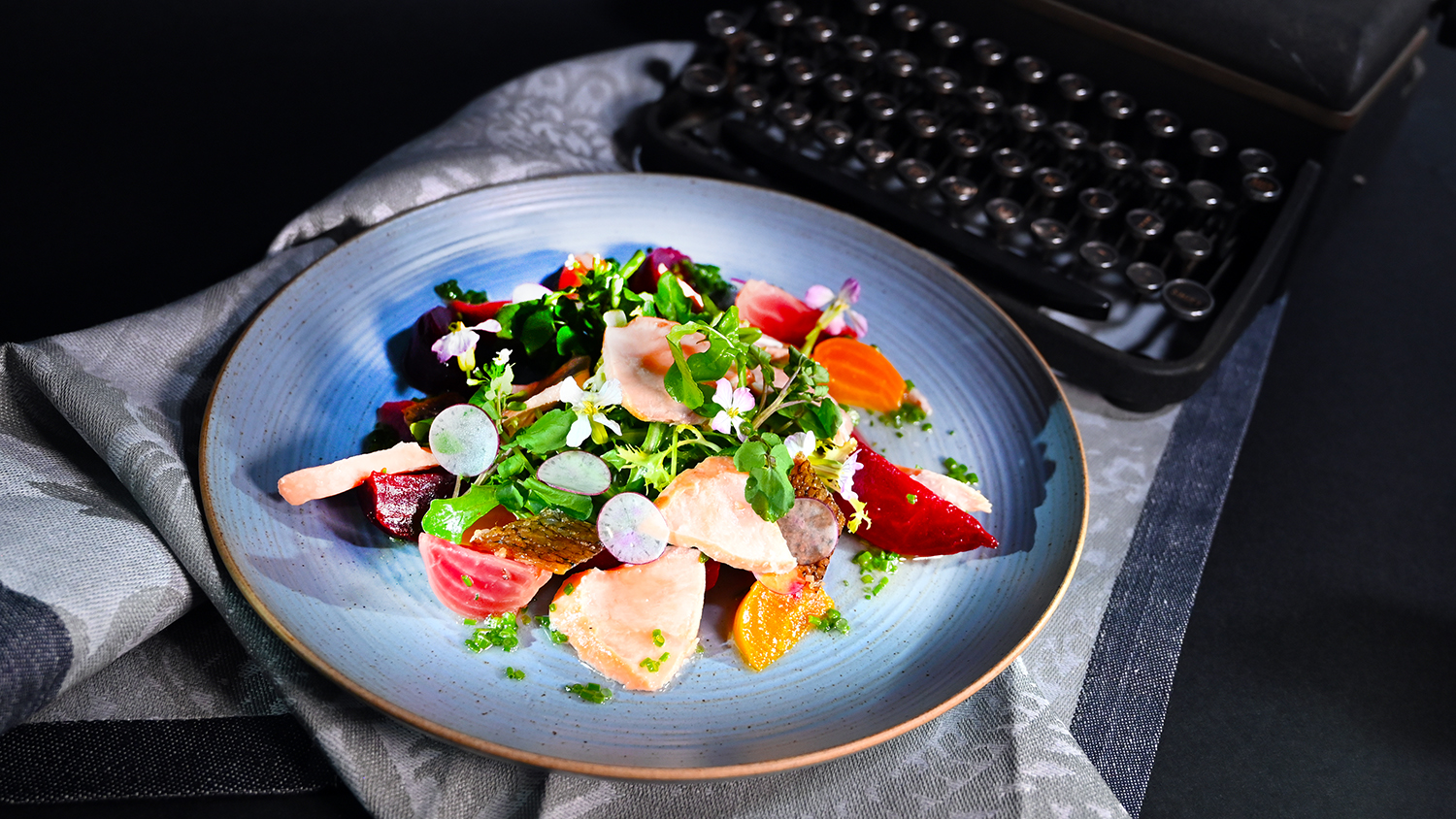 4             ea.          Salmon Fillets (12 oz total, thawed, skin removed, 3 ounces each, 1 inch thick)
½            oz.          Kosher Salt
½            oz.          Sugar
4             oz.          Red Radish, stalks removed, rinsed, shaved paper thin
8             oz.          Fresh Red Beets, stalks removed, rinsed, cooked, peeled, quartered
8             oz.          Fresh Golden Beets, stalks removed, rinsed, cooked, peeled, quartered
2             oz.          Olive Oil
1             oz.          Rice Wine Vinegar
1             Tbsp.      Chives, shaved thin
Kosher Salt and Pepper to taste
4             oz.          Fresh Arugula, rinsed
2             oz.          Fresh Frisée greens, rinsed
Poaching liquid – water, one lemon, sliced, squeezed, added to pot, bay leaf, pepper corns – to taste
Medium Sized Pot for Poaching, Large Bowls, Spatula, Cutting Board
Place salmon fillets in container or baking dish. Combine the Kosher salt and sugar and dust salmon fillets. Refrigerate for 1 hour.
Remove fillets from refrigerator, rinse off salt and sugar in ice water.
Place pan on stove, fill with poaching liquid, and heat to medium-high (185 degrees), place salmon fillets in pot and gently poach for 10 minutes. Remove from liquid, pat dry and refrigerate until chilled.
Place shaved radish and beets in bowl and add olive oil, vinegar, chives, salt, and pepper. Toss gently to coat.
Combine Arugula and Frisée and toss with radish and beet salad.
Serve by placing an even portion of greens and beets onto four plates. Gently flake the poached portions into pieces and place on top of each salad. Drizzle with extra vinaigrette at the bottom of the bowl of beets. Option: garnish with extra greens herbs, and edible flowers.
All our Salmon recipes utilize widely available ingredients that are often prepackaged for safety and hygiene, are easy to prepare, nutritious, and delicious. If you have questions email us at information@chileansalmon.com