Chilean Salmon Sashimi, with Edamame and Sushi Rice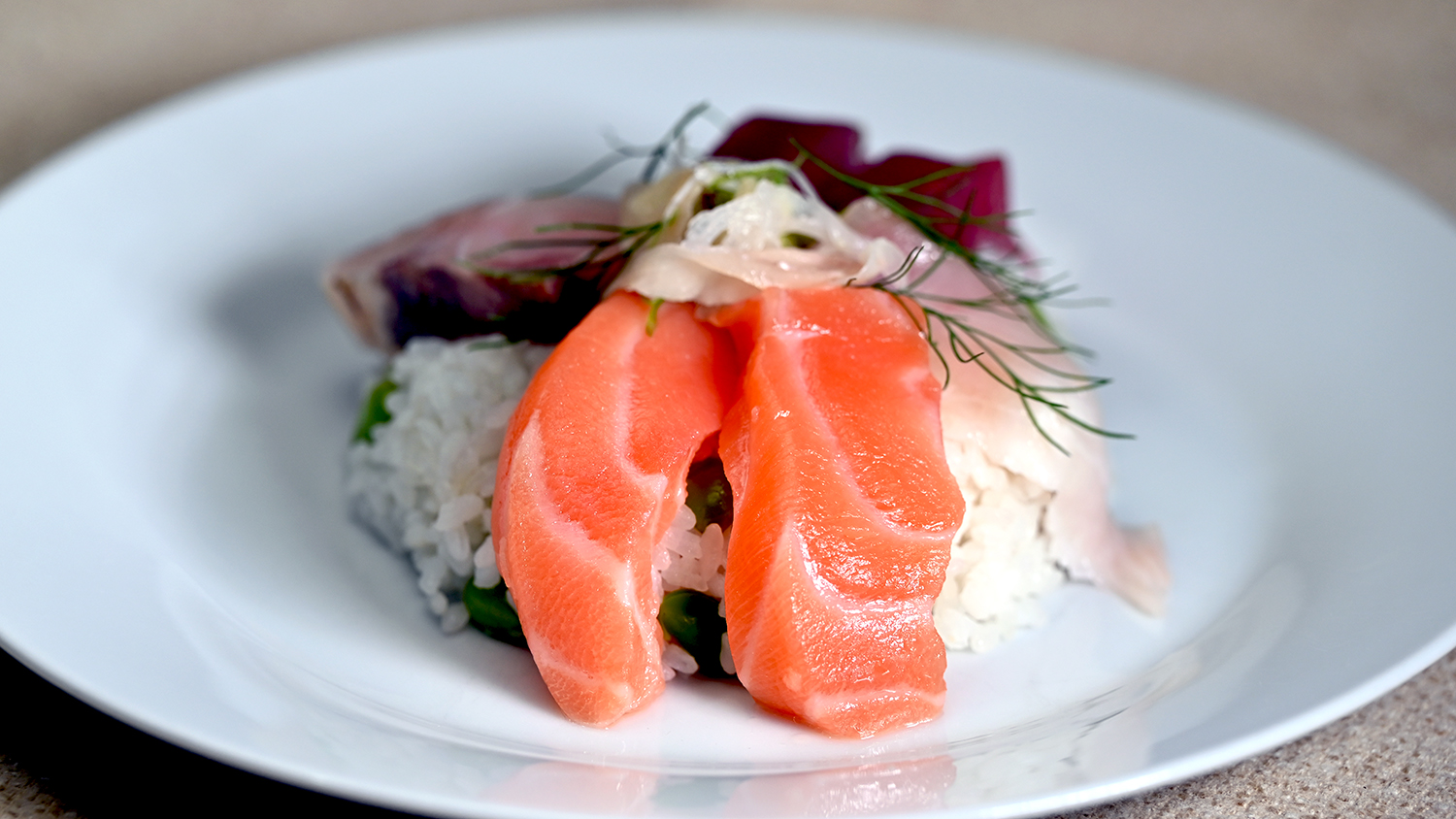 6             oz.          Salmon Belly Flap, skin removed, ice cold – sliced thinly across the grain into 12 portions
For the sushi rice
8             oz.          Short Grain Sushi Rice, rinsed until water runs clear, drained
10           oz.          Cold Water
4             oz.          Rice wine vinegar
2             oz.          Sugar
4             oz.          Edamame – blanched, hulls removed, beans only
1             oz.          Pickled Ginger
1             oz.          Wasabi Paste
1             oz.          Saishikomi Shoyu (double fermented barrel aged soy sauce (available on Amazon)
Cutting board, razor sharp slicing knife, rice cooker, small saucepan, mixing bowl, wooden spoon, serving plates, chopsticks
Carefully cut salmon belly across the grain into thin sashimi strips.

Place 8 oz. rice in rice cooker and cover with 10 oz. of cold water. Cook until finished (approximately 20 minutes).

While rice is cooking, place vinegar and sugar in small saucepan and bring to a simmer. Remove from heat and allow to cool.

Place sushi rice in large glass or stainless steel bowl and drizzle 2/3 of vinegar and sugar mixture over the top. Add cooked edamame beans to the rice. Gently fold the rice using a wooden spoon until vinegar and edamame beans are combined.
To serve:
Fill a 4 ounce bowl or measuring cup with rice blend and invert onto a serving plate.

Place two or three slices of salmon on rice (you can add slices of other fish if you prefer variety).

Top with pickled ginger and spots of wasabi.

Drizzle with Saishikomi Shoyu
Options: Serve with diced avocado, finely julienned carrot, thinly sliced lightly salted cucumber, and sesame seeds. Lightly cure the fillet with ½ teaspoon of salt and ½ teaspoon of sugar for 30 minutes to make slicing easier.
All our Salmon recipes utilize widely available ingredients that are often prepackaged for safety and hygiene, are easy to prepare, nutritious, and delicious. If you have questions email us at information@chileansalmon.com