Chilean Salmon Tteokbokki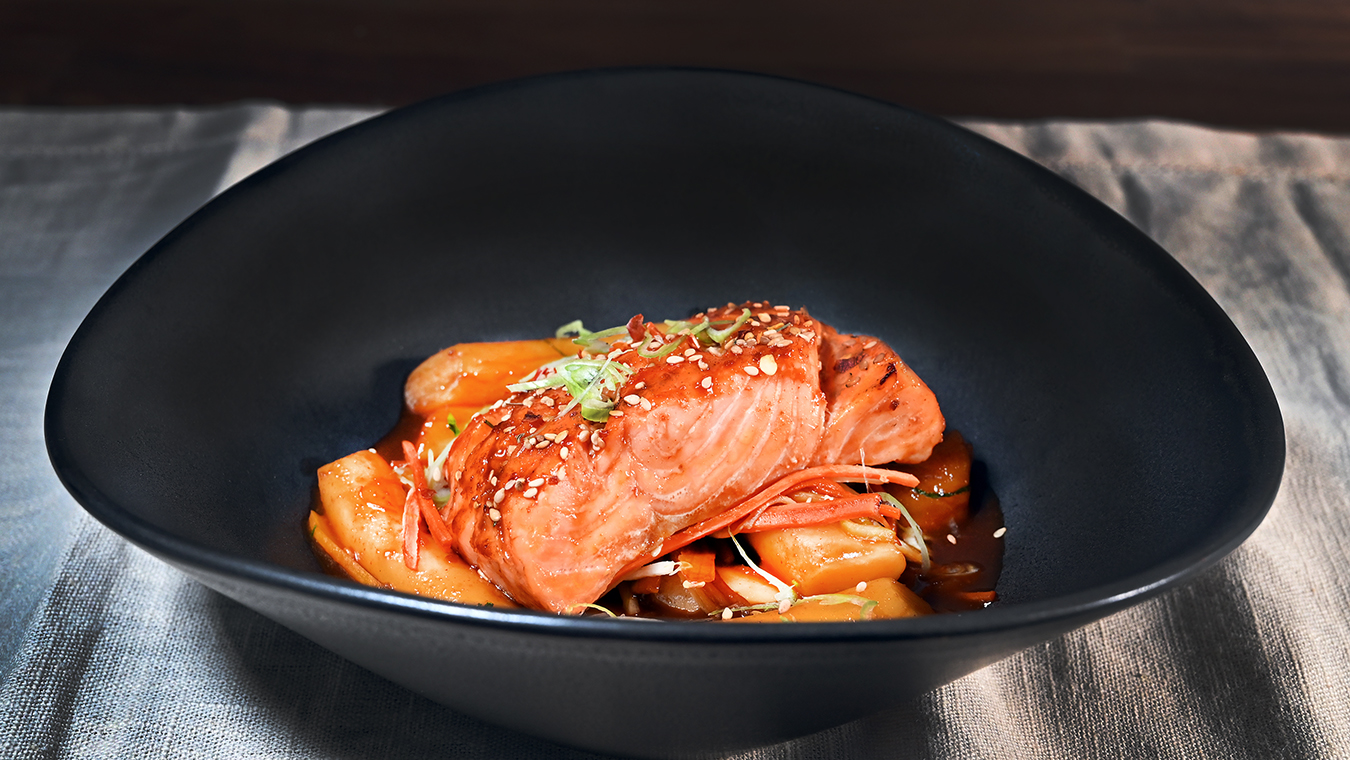 For the Salmon
1 lb.        Chilean Salmon fillet, skin on. Cut into 4 even portions (we prefer center cut filet portions)
1 Tbsp    Olive Oil
For the Tteokbokki
3 C.         Water
¼ C.        Fish Sauce (we prefer Red Boat).
1 ea.       Sugar kelp, dried, 8 inch long (we prefer wild from Maine Coast Sea Vegetables)
4 oz.       Gochujang hot pepper paste (we prefer Sempio brand, vegan, non-GMO)
1 Tbsp.   Gochugaru – Korean chili flakes
1 Tbsp.   Honey Powder
1 Lb.        Tteok (cylinder shaped rice cake)
½ C.        Scallion, finely sliced
4 oz.       Carrot, julienne
4 oz.       Daikon Radish, julienne
1 Tbsp    Sesame Seeds, toasted
medium sized bowls, cutting board, spatula, one medium pots, tongs, chef knives, non-stick pan
Bring water, fish sauce, and sugar kelp to a simmer and cook kelp for 15 minutes. Remove kelp but reserve kelp stock in the pan.
Combine Gochujang (hot pepper paste), Gochugaru (hot pepper flakes), and honey powder in a small bowl.
Add the Tteok rice cake, pepper mixture, and green onion to the kelp stock and simmer, stirring occasionally, until the mixture begins to thicken, and the rice noodles become tender. Continue cooking 10-12 minutes until thick and shiny.
Add carrots and radish and stir. Remove from heat.
For the salmon – place tablespoon of olive oil in sauté pan (we prefer cast iron) and heat to medium temperature. Season both sides of salmon and place skin-side down in pan and brown (2-3 minutes), flip the salmon and cook for 1 more minute then turn off the heat.
To serve
Portion 3-4 ounces of Tteokbokki mixture and sauce in a bowl. Top with seared salmon. Garnish with toasted sesame seeds and shredded scallion. Enjoy!
All our Salmon recipes utilize widely available ingredients that are often prepackaged for safety and hygiene, are easy to prepare, nutritious, and delicious. If you have questions email us at information@chileansalmon.com