Chilean Salmon with Spicy Udon Noodles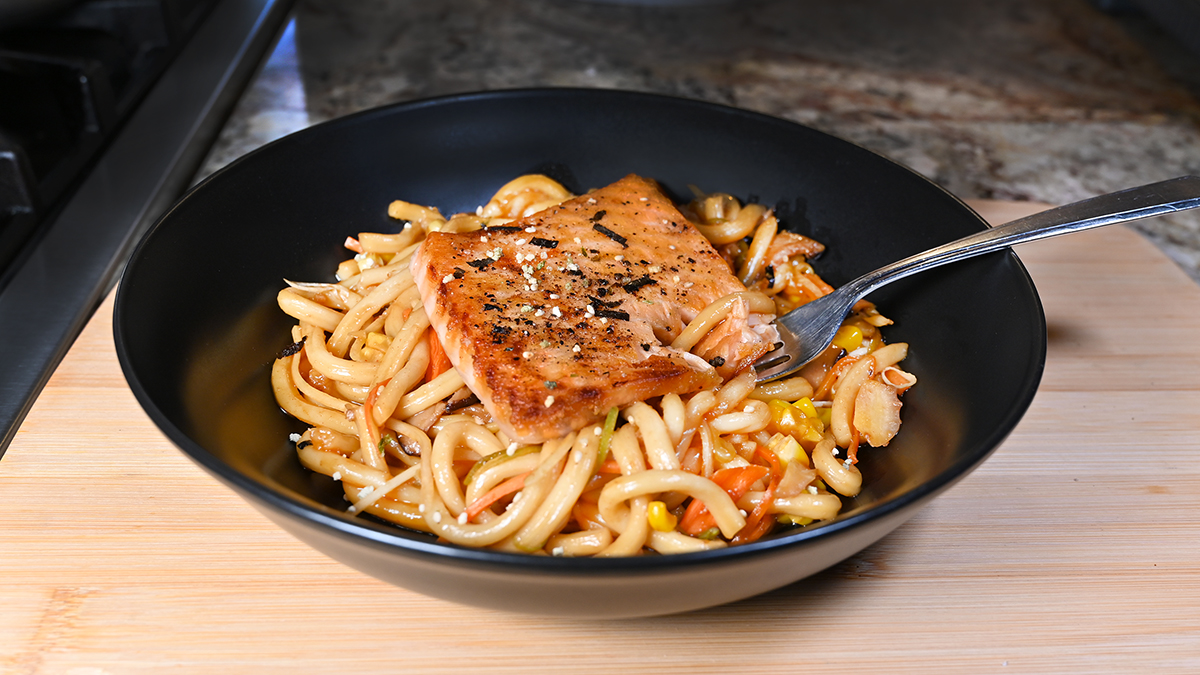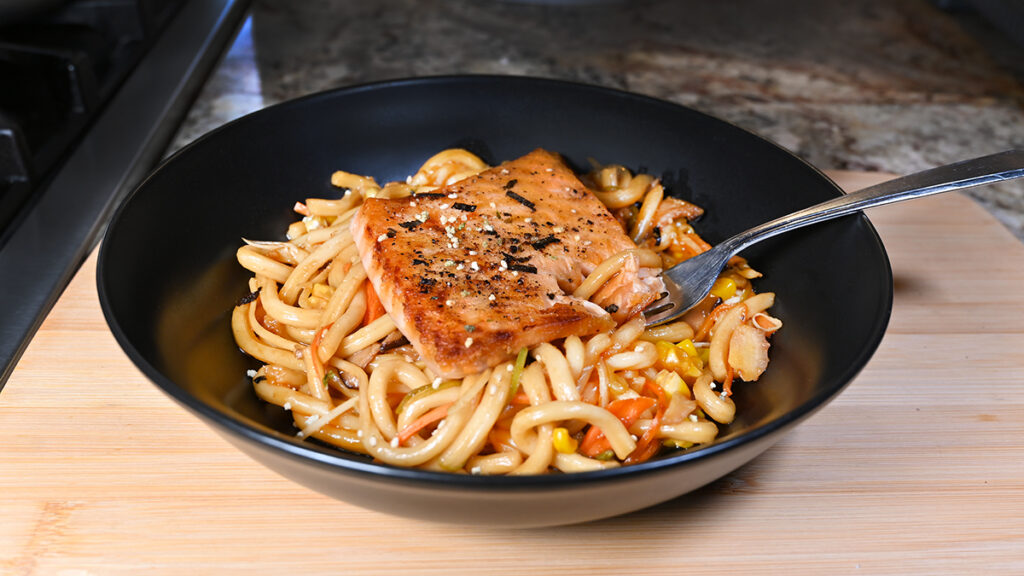 For the Salmon
1 lb.        Chilean Salmon fillet, skinless. Cut into 4 even portions (we prefer the belly flap for this dish)
Salt, pepper, and seasonings to taste
1 Tbsp    Olive Oil
For the Sauce
1 Tbsp    Olive oil
6 oz.       Fresh shiitake mushrooms, stem removed and sliced ¼ inch thick
2 ea.       Garlic cloves, peeled and minced
1 oz.       Fresh ginger, peeled, minced
12 oz.     Chicken Stock (or vegetable broth)
3 oz.       Rice Wine Vinegar
2 oz.       Tamari Soy Sauce (low salt)
1 Tsp.     Molasses
½ oz       Dried shiitake mushrooms, stems removed, soaked in warm water, minced
1 Tbsp    Chili Garlic Crunch (Asian chili-garlic sauce – we like this kind!)
Salt and pepper
1 Lb.       Fresh Udon noodles
1 Tbsp.   Togarashi Spice (we like this kind!)
medium sized bowls,
cutting board,
spatula,
two medium pots,
cast iron pan,
tongs.
Place olive oil in medium size stainless pot and bring to medium heat. Add mushrooms, garlic cloves, and ginger and gently sauté. Add stock, vinegar, soy sauce, molasses, and dried mushroom and simmer for 6-8 minutes until slightly reduced.
For the salmon – place tablespoon of olive oil in saute pan (we prefer a seasoned cast iron skillet) and heat to medium temperature. Season both side of salmon and place skin-side up in pan and brown (2-3 minutes), flip the salmon and cook for 1 more minute then turn off the heat.
For the noodles – bring a gallon of water to a boil with a pinch of salt and add Udon noodles. Cook for 1 minute and then transfer noodles to pot with broth and stir. Gently simmer for 2-3 minutes until broth thickens slightly.
To serve
Portion noodles into warm bowl (be sure to include some broth), top with salmon fillet and garnish with a dusting of togarashi spice. Option: add julienne carrots, corn kernels, and zucchini as a vegetable. Cook for 3 minutes.
All our Salmon recipes utilize widely available ingredients that are often prepackaged for safety and hygiene, are easy to prepare, nutritious, and delicious. If you have questions email us at information@chileansalmon.com