Crispy Chilean Salmon Loukoumades, Cured Salmon, Spicy Syrup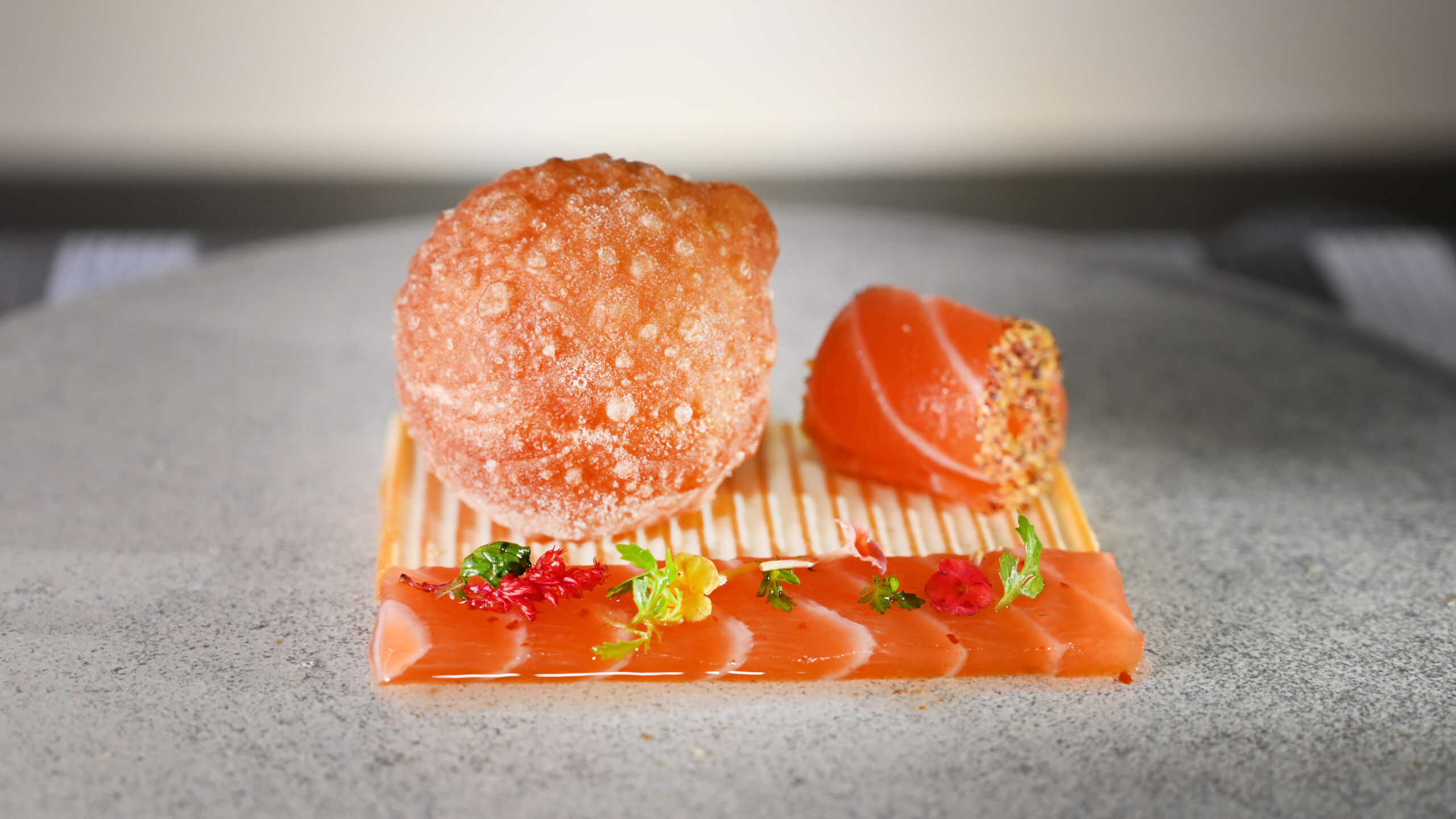 For the Loukoumades Dough
2                                   Packages active dry yeast (.25 ounce ea.)
10 oz.                           Warm water
4 oz.                             Warm milk
2 oz.                             White sugar
1 teaspoon                  Salt
2.75 oz.                        Butter, softened to room temperature
3 ea.                              Eggs
4 ¼ cups                      All-purpose flour
For the filling
3 oz.                              Chopped Chilean Salmon Belly, Raw
1 tsp.                             Truffle Paste
1 Tbsp.                          Butternut Puree
1 tsp.                             Egg white Powder
Salt                                To Taste
Combine all ingredient into a bowl, chill, and reserve.
For the Syrup
6 oz.                              Lite Soy sauce
12 oz.                             Maple sugar
4 oz                                Sake
¼ tsp                            Lavender, dried
¼ tsp                             Aleppo pepper
Medium Sized Pot and induction cooker for frying (or cooktop burner), Mesh Skimmer, Medium Bowls, Spatula, Small Knife, Cutting Board
Sprinkle the yeast over the warm water in a small bowl. Allow to stand for 5 minutes until the yeast softens and begins to lightly foam. In a large bowl, mix the warm milk, sugar, and salt, and mix to dissolve. Pour the yeast mixture into the milk mixture and stir to combine.
Beat in the butter, eggs, and flour until the mixture forms a smooth, soft dough. Cover the bowl, and let rise until doubled in bulk, about 40 minutes. Roll dough into ¼ inch sheets and proceed to spoon a small amount (¼ ounce) of Chilean salmon filling as if you were making ravioli, brush with water and cover with a top sheet of dough. Using a round metal cutter, punch out circles and pinch the edges to seal. Allow to rest covered for 10 minutes.
Heat oil in a deep-fryer or large saucepan to 350°f. Oil should be at least 6 inches deep. Using a slotted spoon, gently place the filled loukoumades into the oil and fry until golden brown, flipping the loukoumades halfway through the frying process.
Place all ingredients for syrup in a small sauce pan and heat over low temperature until dissolved and barely simmering. Cook until clear and allow to cool.
Serve by placing one loukoumades on a plate with a roll of cured, sliced, Chilean salmon. Drizzle with spicy syrup and serve.
All our Salmon recipes utilize widely available ingredients that are often prepackaged for safety and hygiene, are easy to prepare, nutritious, and delicious. If you have questions email us at information@chileansalmon.com