Golden Brown Chilean Salmon with Cucumber Gazpacho, Osetra Caviar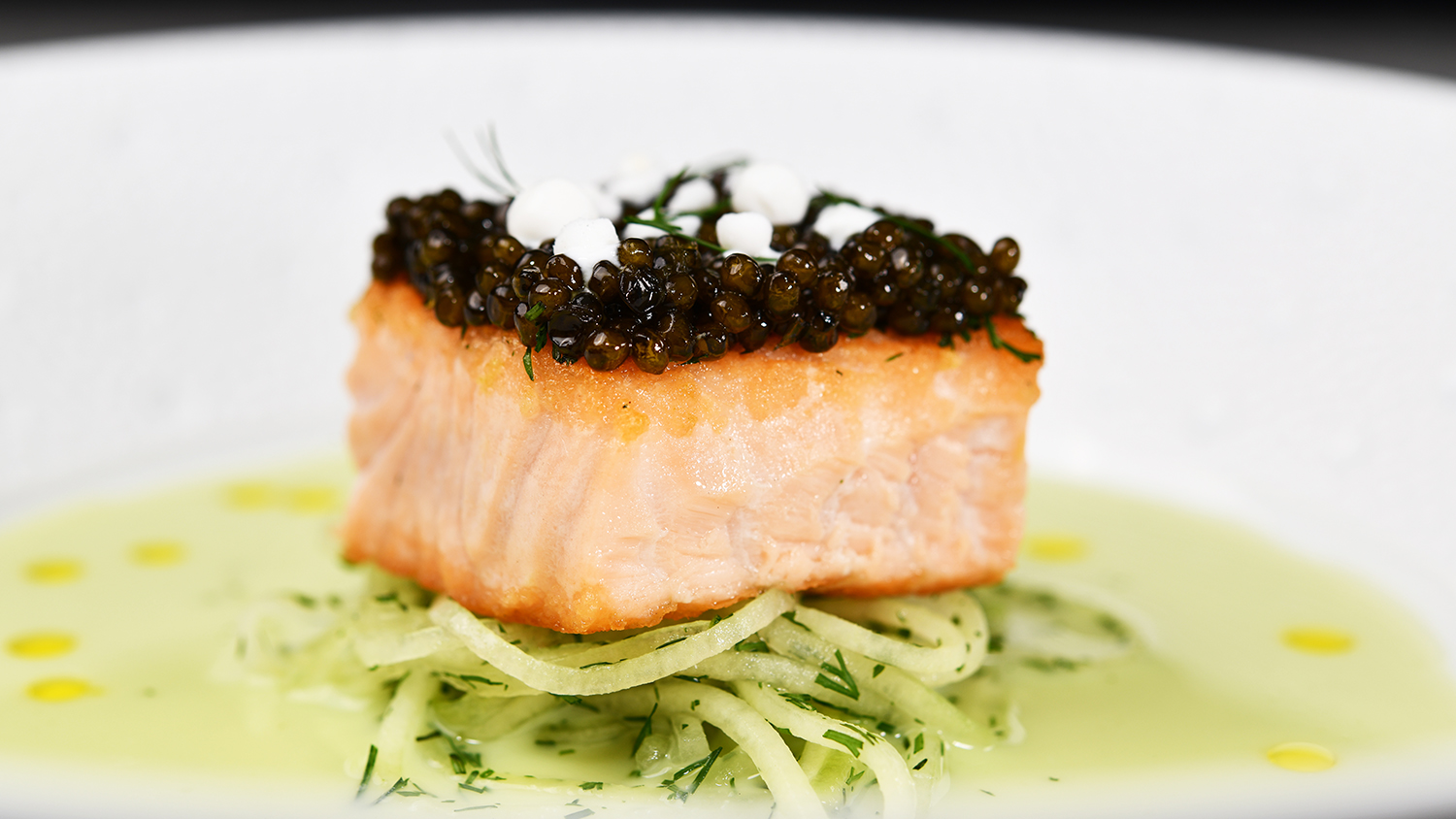 12                oz.              Chilean Salmon Fillet, portioned 3 ounces each, skinless boneless
2                  oz.              Fresh Dill (approximately ½ bunch), washed, patted dry, minced
2                  oz.              Olive Oil
2                  ea.              Seedless Cucumbers
4                  oz.              Tomatillos – green (approximately two tomatillos), cut into quarters
1                  ea.              Cloves Garlic, blanched, rough chopped (you can microwave the garlic clove for 30 seconds)
1                  oz.              Fresh Mint (approximately ¼ bunch)
2                 oz.              Greek Yogurt – seasoned lightly with salt
1                  oz.             Osetra Caviar
Sea Salt, Fresh Cracked Pepper to taste
Sauté Pan, Spatula, Small Food Processor, Small Mixing Bowls, Metal Spoons, Serving Plates.
Peel one cucumber and cut into large dice, combine with Tomatillo's, and chopped garlic clove.
Mix everything together and season lightly with sea salt.
Add 8-10 large mint leaves to cucumber mixture and let it sit for 20min at room temperature.
Warm large sauté pan over medium heat. Season the salmon with Salt and pepper and pour a small amount of cooking oil in the pan, just enough to coat the bottom of the pan. Once the oil is starting to smoke a little, place the salmon in the pan for about 45 seconds to a minute then turn the salmon over for another 45 seconds to a minute on the other side. Remove salmon from pan and pat dry on paper towel.
Dip one side of the salmon in the dill and place salmon on a tray and reserve.
Place the cucumber mix into a food processor and blend on high speed until smooth, (make sure the liquid does not heat up – pulse for 1 or 2 minutes). Pour into container and chill until cold.
Peel second cucumber and julienne on a Japanese mandolin (or julienne by hand). Season lightly with salt and pepper.
To serve:
Form a nest out of cucumber julienne in each serving bowl.
Pour 1 to 1 ½ ounces cucumber Gazpacho around the cucumber julienne.
Carefully spoon a thin layer of caviar on top of each salmon portion and place on top of the cucumber julienne.
Spoon tiny droplets of Greek yogurt onto caviar.
Garnish the plate with a few drops of Olive oil.
All our Salmon recipes utilize widely available ingredients that are often prepackaged for safety and hygiene, are easy to prepare, nutritious, and delicious. If you have questions email us at information@chileansalmon.com