Grilled Chilean Salmon with Jalapeno Honey Mustard Sauce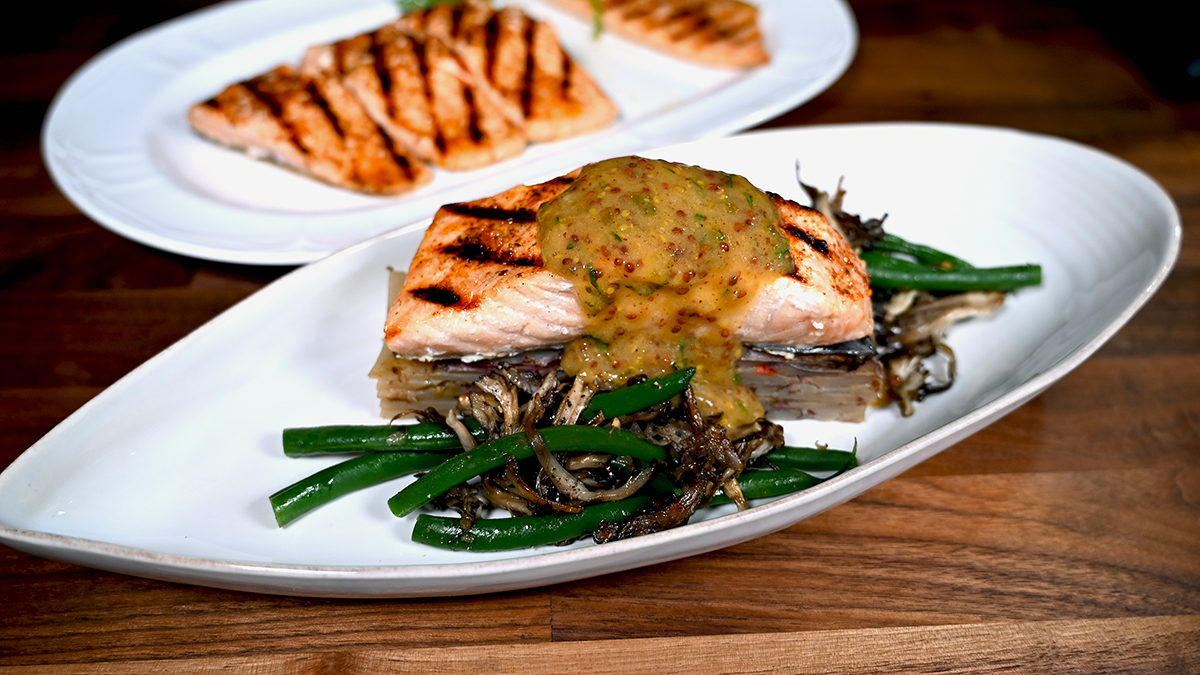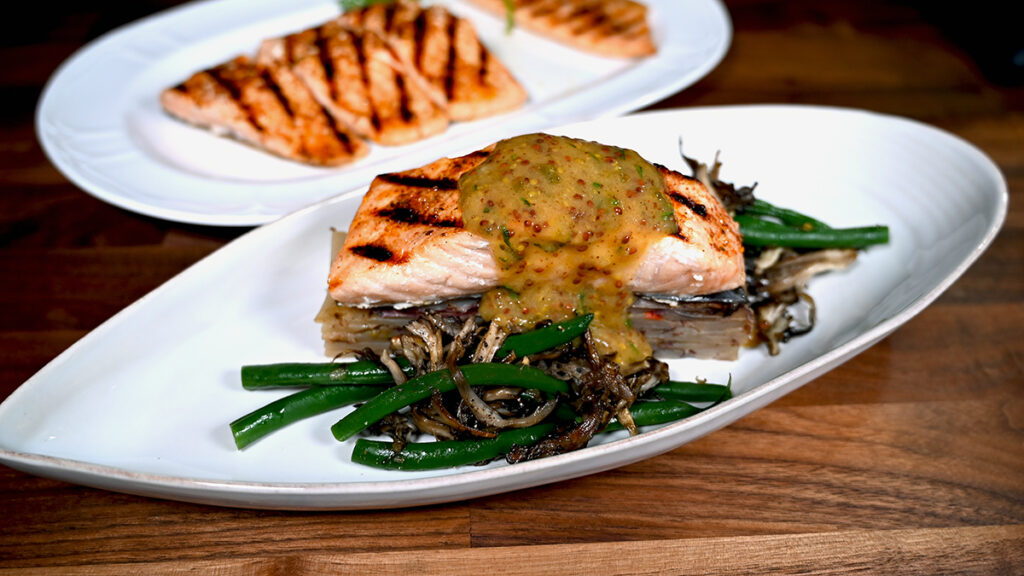 12 lb.      Chilean Salmon fillet, skin on. Cut into 4 even portions (we prefer center cut filet portions)
1 Tbsp    Olive Oil
2 oz        Whole Grain Mustard
1 oz.       Prepared Brown Mustard
2 oz.       Honey
6 oz.       Chicken or vegetable stock
1 Tbsp    Pickled Jalapeno Pepper, diced
1 tsp       Corn Starch
1 lb.        All Purpose Potatoes, peeled, sliced thin
4 oz.       leeks, sliced thin, sauteed in olive oil until tender
2 oz.       Red Pepper, julienne, sauteed in olive oil until tender
6 oz.       Chicken Stock
Salt and pepper to taste
1 oz.       Shallots, minced
¼ lb.       Maitake Mushrooms, pulled into pieces
¾ lb.       Green Beans (haricot verts), blanched
2 oz.       Olive Oil
Electric grill, cutting board, spatula, one small pots, tongs, chef knives, small bowls,
For the Sauce
Combine the mustard, honey, chicken stock and jalapeno in a small pot and bring to a simmer. Thin the corn starch in a small bowl with a tablespoon of water or stock (preferred) and add to sauce while simmering. Simmer until desired consistency. Taste, season with salt and pepper. Hold.
For the Potatoes
Rub a small baking dish or loaf pan with olive oil until fully coated. If possible, line bottom of pan with parchment paper to make removal of potatoes easier. Mix potatoes, leeks, and peppers in a large bowl. Season with salt and pepper and layer in baking pan. Cover pan with foil, bake at 350 degrees for 20 minutes until partially tender, remove foil and bake another 10-12 minutes until fully cooked and golden brown on top. Remove from oven and allow to cook for 45-60 minutes.
For the beans, sauce the mushrooms and shallots in olive oil over medium heat until golden brown and tender. Add green beans to pan and cook over medium heat until hot (3-4 minutes).
For the Salmon
Cut salmon into 3- or 4-ounce portions. Season with salt, pepper, and paprika. Drizzle portions with olive oil and grill (skin side up to start) over medium-high heat until fully cooked (4-5 minutes). The grill should be hot enough that you hear a sizzle when the salmon touches the surface.
To serve
Cut potatoes into rectangular portions and place on warm plate. Top potatoes with salmon fillet – skin side down. Place sauteed beans and mushrooms on the left and right sides of the salmon. Drizzle with 2 ounces of sauce. Serve piping hot.
The first secret to this dish is a properly heated electric grill. We love using one during the colder months (so long as good ventilation is available). Ours is from Starfrit and it costs less than $40.00 – we love it. The second trick is adding pickled jalapeno to the sauce. It really makes a difference.
All our Salmon recipes utilize widely available ingredients that are often prepackaged for safety and hygiene, are easy to prepare, nutritious, and delicious. If you have questions email us at information@chileansalmon.com