Olive Oil Poached Chilean Salmon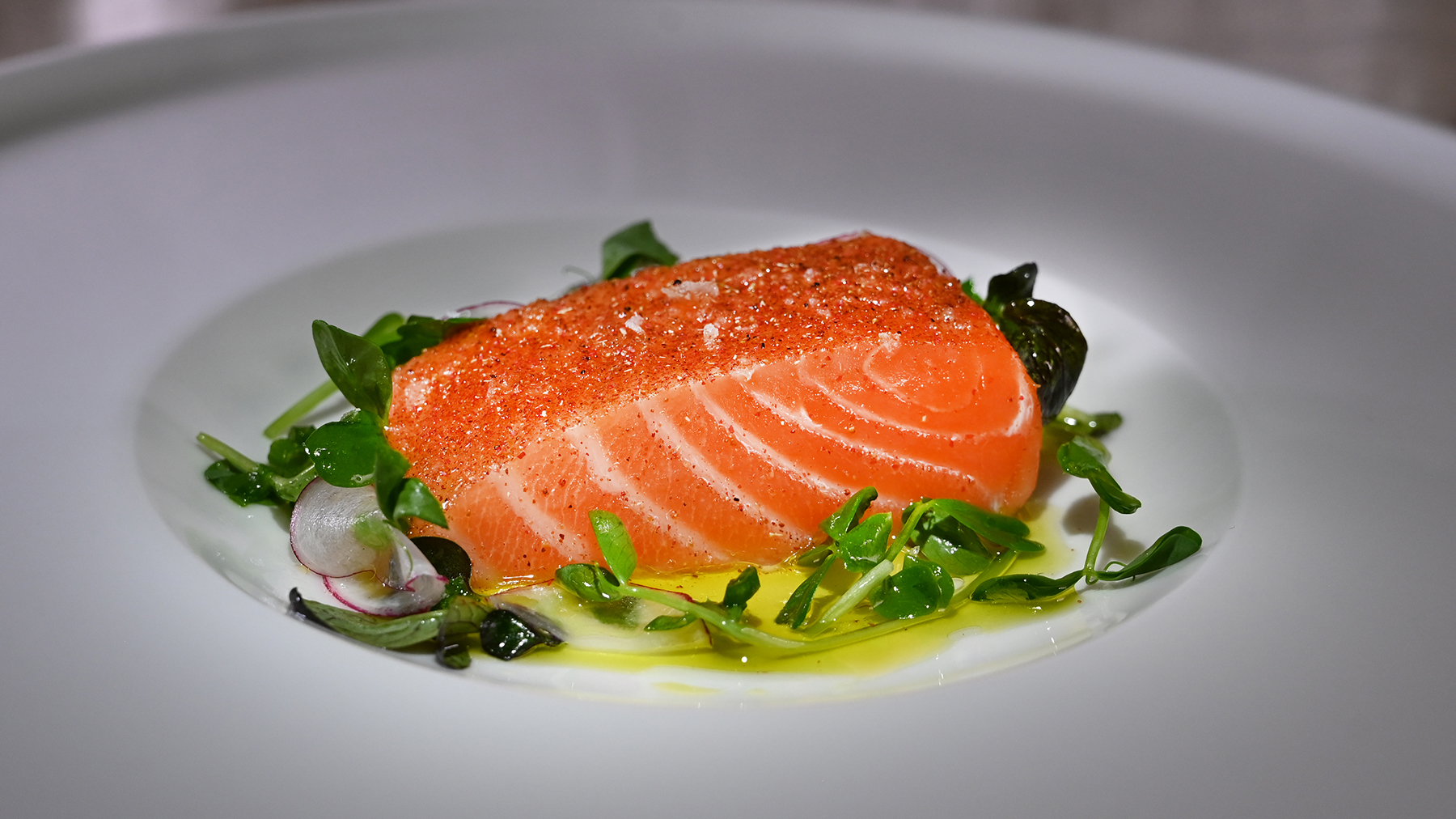 For the Salmon
4                  ea.              Salmon Fillets, center cut (16 oz total, thawed, skin removed, 4 ounces each, 1 inch thick)
4                 oz.              Olive Oil
1                  sprig          Thyme
1                  sprig          Tarragon
1                  ea.              Shallot, small in size, quartered
½                oz.              Salt
¼                 oz.              Black pepper, fresh cracked
Spice Rub
¼                 oz.              Pink Peppercorns, toasted, rough chopped
¼                 oz.              Fennel Pollen
¼                 oz.              Maldon Salt
Pinch         Orange zest, dehydrated
Petit Salad
2                  oz.              Olive Oil
1                  oz.              Pea Tendrils
1                  oz.              Red Radish, sliced paper thin
¼                 oz.              Salt
Pinch         Black pepper, fresh cracked
Pinch         Fresh chives, sliced paper thin
Medium Sized Pot and induction cooker for poaching (or sous vide cooker), Medium Bowls, Spatula, Small Mandolin, Cutting Board
Season both sides of each of the 4 ounce salmon filets with salt and pepper and place inside a plastic bag with olive oil, thyme, tarragon, and shallot. Squeeze out air and seal.
In a 140 F water bath, cook salmon until it reaches an internal temperature of 105
Remove salmon from bag and place on large plate lined with paper towels to drain oil. Pat dry. Season heavily with the spice Hold at room temperature.
Combine ingredients for petit salad and toss. Taste, adjust seasoning.
Place on salmon fillet on plate with petite salad as garnish. Drizzle with olive oil. Serve.
All our Salmon recipes utilize widely available ingredients that are often prepackaged for safety and hygiene, are easy to prepare, nutritious, and delicious. If you have questions email us at information@chileansalmon.com