Roasted Chilean Coho Salmon with Scallop and Shrimp Stuffing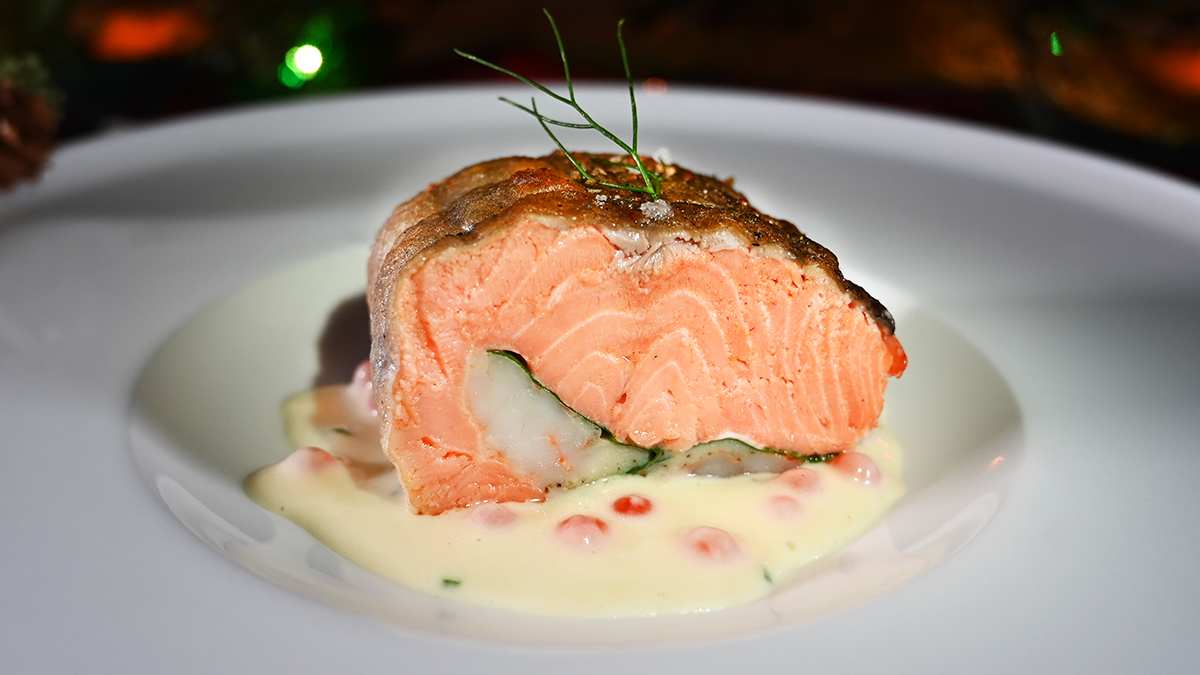 Ingredients:
1 ½             Lb.              Chilean Coho Salmon Fillet, skin on, scales removed boneless
6                  oz.              Fresh Sea Scallops
3                  oz.              Shrimp, raw, peeled, deveined, tail removed (21-25 count)
1                  ea.              Egg
1                  oz.              Heavy Cream
For the Sauce
6                  oz.              Chicken stock
6                 oz.              Heavy cream
1                  Tbsp.         Prepared horseradish
1                  oz.              Corn starch
1                  oz.              Cold water
2                  oz               Salmon roe caviar
1                  Tbsp.         Chives, fresh – sliced thin
Sea Salt, Fresh Cracked Pepper to taste
Roasting Pan, Small Saucepan, Whip, Spatula, Small Food Processor, Small Metal Spoons, Serving Plates.
Lay salmon fillet on large cutting board or counter, skin side down. Lightly season with salt and pepper.
Prepare stuffing – place sea scallops, shrimp, egg, and heavy cream in small food processor and pulse until fully blended and smooth, season with salt and pepper, pulse again. Spread stuffing the length of the fillet filling the belly cavity with ½ to ¾ inch of stuffing. Fold the belly flap up over the loin and tie with butcher's twine. We actually use butcher's netting which holds the fillet firm. If you use butcher's netting, be sure to soak it on olive oil before use or it will stick.
Brush the fillet with olive oil, season with salt and pepper (or your favorite seasonings – we like fresh cracked fennel seed and coriander seed). Roast at 350 degrees F. for 45 minutes or until an internal temperature of 128 degrees F.
Prepare the sauce by combining chicken stock, heavy cream, horseradish in a small saucepan. Bring to a simmer. Combine corn starch and water until dissolved and add to simmering liquid. Simmer until thick. Taste and adjust seasoning with salt and pepper. When ready, remove from heat, add chives and salmon roe, and stir.
To serve, remove salmon roast from oven and let rest for 20 minutes. Remove twine/netting and slice 2-inch portions. Place portions on serving plate and drizzle with 1 – 2 ounces of sauce and serve.
All our Salmon recipes utilize widely available ingredients that are often prepackaged for safety and hygiene, are easy to prepare, nutritious, and delicious. If you have questions email us at information@chileansalmon.com