Roasted Chilean Salmon, Asparagus, Spring Peas, Potatoes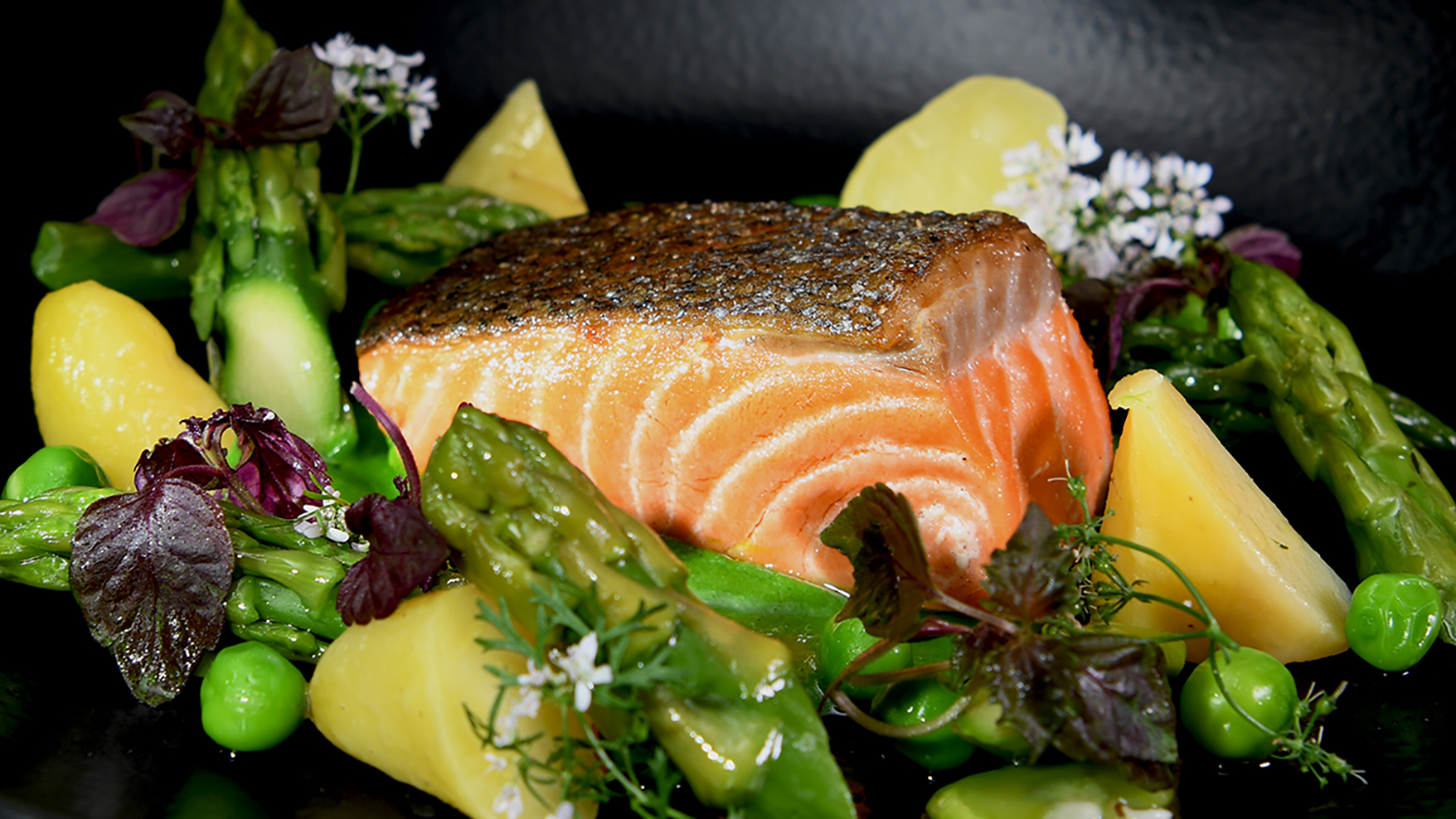 Salmon Ingredients:
16 oz.                          Chilean salmon loin, center cut portions, 4 ounces each, skin on
2 oz.                             Olive Oil
Salt & fresh cracked black pepper to season
Vegetable Garnish & Sauce:
1 lb.                              Yellow Creamer Potatoes, washed, peeled, split, seasoned,
1 bc.                             Asparagus (16-20 stalks), rinsed, trimmed, blanched,
8 oz.                             Fresh Sweet Peas, rinsed, blanched,
2 oz.                             Rice Wine Vinegar,
2 oz.                             Olive Oil,
2 bc.                             Opal Basil, fresh, rinsed, shaken dry,
Salt and fresh cracked black pepper to taste
Small baking tray (10×16), large stock pot (2 gallon), medium sized saucepan with lid, Blender or Food Processor, thermometer, slotted spoon, spatula, small bowls.
Preheat oven to 400 degrees F., bring 1.5 gallons of water seasoned with 2 ounces salt to the boil in large stock pot.
Rub salmon with olive oil, salt, and pepper, place skin side up on baking tray, reserve at room temperature.
Place seasoned potatoes in ovenproof glass bowl or dish and cover with a paper towel. Cook in microwave for 5-7 minutes until tender. Place salmon fillets in 400 degree oven and cook 5-7 minutes until medium in doneness.
Blanch asparagus in boiling water for 3 minutes and remove from heat, shock in cold water.
Blanch spring peas for 3 minutes in boiling salted water and strain over sink. Place half the peas (approximately 4 ounces or ½ a cup in a blender). Add rice wine vinegar and blend on high. While blending, drizzle in olive oil and continue to blend until a smooth and creamy sauce has formed. Season to taste with salt and pepper.
To serve, place hot salmon fillet on plate, spoon 2 ounces of pea puree next to salmon. Warm potatoes, peas, asparagus for 1 minute in microwave and arrange on plate with salmon.
Garnish with opal basil leaves or fresh herbs.
Serve while warm and enjoy!
All our Salmon recipes utilize widely available ingredients that are often prepackaged for safety and hygiene, are easy to prepare, nutritious, and delicious. If you have questions email us at information@chileansalmon.com