Roasted Chilean Salmon, Charred Shishito Peppers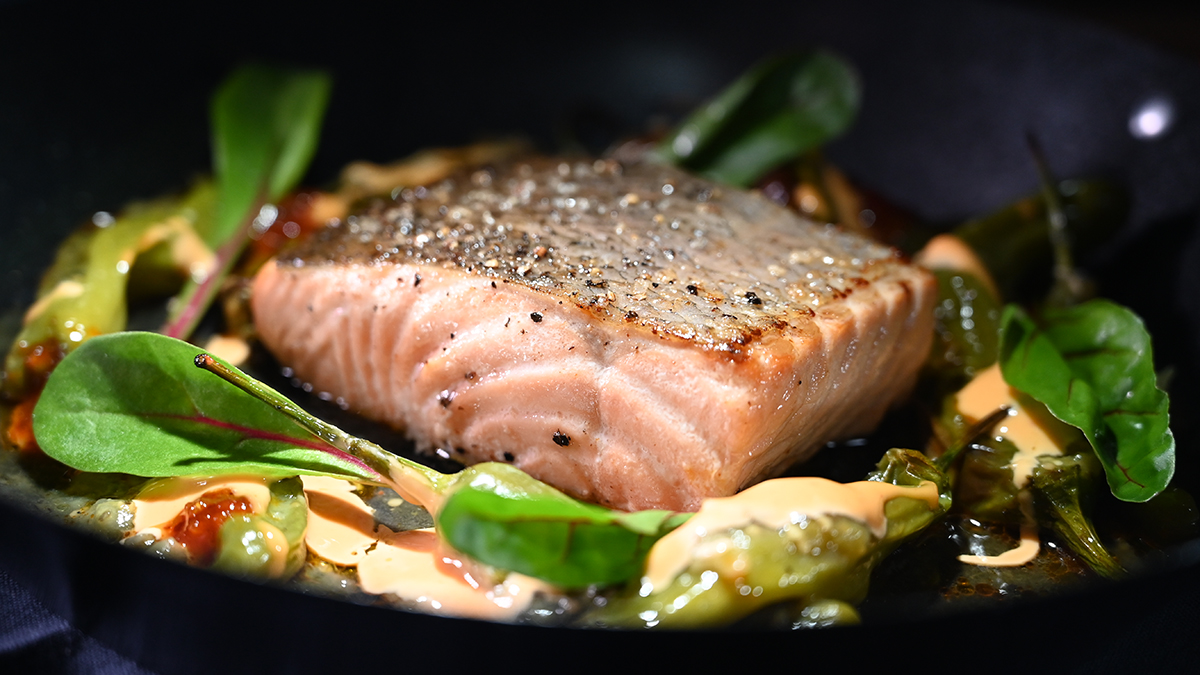 4             ea.          Salmon Fillets (approximately 12 oz total, thawed, skin on)
(3 ounces each, 1 inch think, skin on)
½            oz.          Kosher Salt
½            oz.          Sugar
3             oz.          Olive Oil
8             oz.          Fresh Shishito Peppers (rinsed clean in water)
3/4         cup.        Mayonnaise
2             Oz.          Sriracha Sauce
1             cup.        Baby Salad Greens* (rinsed and dried)
Salt and Pepper to taste
*Can be substituted with fresh leafy herbs like Italian parsley.
Oven safe large Sauté Pan,
Oven,
Large Bowls,
Spatula,
Cutting Board
Place salmon fillets in container or baking dish. Combine the Kosher salt and sugar and dust salmon fillets. Refrigerate for 1 hour.
Remove fillets from refrigerator, rinse off salt and sugar in ice water. Pat dry.
Place sauté pan on stove and heat to medium, drizzle pan with 1 ounce of olive oil, add salmon skin side down and sear for 3 minutes until crispy. Flip salmon in pan.
Add Shishito peppers to sauté pan and char lightly. Place pan in oven set at 350 degrees F and cook for five minutes.
While salmon is cooking, combine mayonnaise and Sriracha sauce. Stir until smooth.
Toss baby salad greens in a bowl with olive oil, salt, and pepper.
Remove salmon from oven. Salt Shishito peppers.
Serve by placing one portion of salmon on each of four serving dishes. Surround salmon with Shishito peppers, and baby salad greens. Drizzle with Sriracha Mayonnaise and serve.
All our Salmon recipes utilize widely available ingredients that are often prepackaged for safety and hygiene, are easy to prepare, nutritious, and delicious. If you have questions email us at information@chileansalmon.com